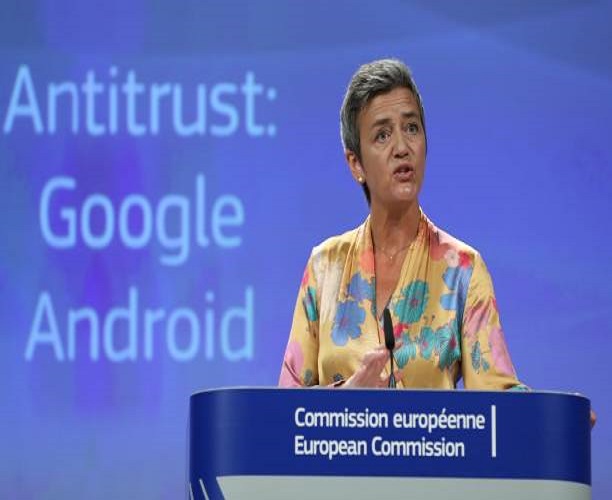 The European Commission on Wednesday slammed Google a colossal $5 Billion fine for Android antitrust violations. It ordered Google to stop using its Android mobile operating system to block rivals. Google says it is going to appeal the ruling.
Remember that last year the EU ordered Google to pay 2.4 billion euros over its online shopping search service. Washington responded equally by asking Deutsche bank to pay a fine of about 2.5 billion euros also for acquiring numerous customers without their consent. It is not clear if this latest fine is a continuation of the political battle between Washington and Brussels.
The commission identified three transgressions for the ban:
Requiring mobile device manufacturers to preinstall Google's browser and search apps for access to the Play store
Paying manufacturers to exclusively preinstall Google Search
Preventing manufacturers from selling devices running alternative versions of Android.
The EU has said it could fine Google as much as five percent of its global earning if Google continues with the practice.
Google Chief Executive Officer Sundar Pichai said the EU decision "rejects the business model that supports Android, which has created more choice for everyone, not less." Users can easily disable or delete apps that are loaded on their phone and Google only earns revenue "if our apps are installed and if people choose to use our apps instead of the rival apps," he said.
"Google has used Android as a vehicle to cement the dominance of its search engine," EU Competition Commissioner Margrethe Vestager told reporters. "These practices have denied rivals the chance to innovate and compete on the merits."
Vestager said it was "solely" up to Google to determine how it can comply with the EU order. "The obvious minimum" is that the "contractual restrictions disappear," she told Bloomberg TV.