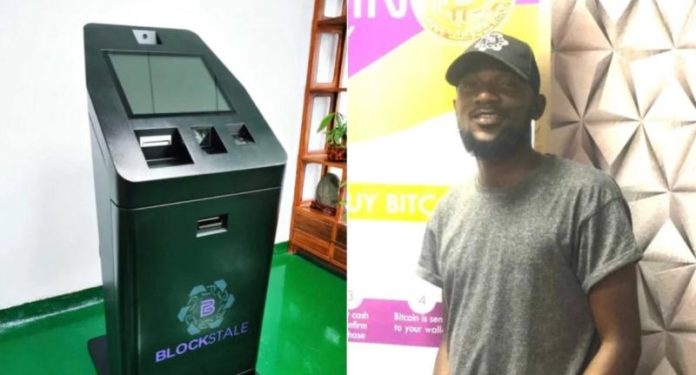 While the bitcoin saga on whether or not to be recognized as a legal tender continues, young Nigerian entrepreneur, Daniel Adekunle, has designed Nigeria's First Bitcoin ATM in Lagos.
Adekunle is the CEO and founder of Blockstale, a blockchain hardware and software development firm based in Lagos. Daniel Adekunle Omoshola's ATM was designed in Shenzhen, China, to serve the need of bitcoin investors in the African market.
"For about three years now I have been working on the blockchain technology and BTMs (Bitcoin Teller Machines or Bitcoin ATMs) hardware, software and firmware most especially," said Omoshola to WeeTracker in a statement. "I had my people (Africans) very much in mind since they are a little rigid when it comes to innovation and personal interaction(s) with high tech devices."
Adekunle alongside his co-founder Adeyiga Oluseye Daniel perceive bitcoin as a veritable investment vehicle,
"We hope this great innovation structures our economy and opens more opportunities to our youths and other business owners," the CEO said.
Hence the need to increase its presence in the country with the introduction of the new ATM machine called BTM,
"I know there is a scarcity of these machines in Nigeria, and that's why we're quietly filling the gap, for now." he added.
The Nigerian BTM machines will not accept credit or debit cards but instead, operate through a scannable QR code that links to a mobile bitcoin wallet.
The BTM innovation isn't the first of its kind in Africa. Other countries such as Kenya, South Africa, Uganda, Ghana, and Zimbabwe all have bitcoin ATMs.
Bitcoin market's potential is large in Africa. Although the Nigerian government seems to be sluggish in legalizing the use of this virtual currency, it is believed to be deliberate and based on selfish grounds as it will be difficult to collect its 7.5% VAT.
Contrastly, other opinions have it that illegalizing bitcoin is for the greater good as doing so would discourage money laundering amongst greedy politicians and public office holders.
What is your take?