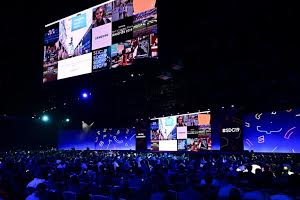 This year's Samsung Developer Conference (SDC 2019) offers attendees exclusive looks at technologies that will enable partners and developers to shape the next generation of experiences.
The event held at the San Jose McEnery Convention Center in sunny California, highlighted three major topics in technology – Bixby, SmartThings and the blockchain ecosystem.
Bixby is Samsung's voice-enabled virtual assistant that uses voice commands (AI) to carry out instructions accordingly. At the SDC 2019, Samsung looks to provide developers more seamless ways to expand the Bixby ecosystem into a wide range of devices.
"In 2019, we made it even easier to use Bixby," Chung explains. "We added new capabilities not only on our flagship devices, but also on most of our A-series devices, on more Galaxy tablets and watches, TVs and home appliances. Just to give you countless new ways to integrate intelligence into everything you do."
The South Korean company demonstrates how enhancements to the Bixby Developer Studio, including new Bixby Templates and Bixby Views, will streamline the development of capsules that work across Bixby's ever-growing ecosystem of devices.
SmartThings, otherwise known as Internet of Things (IoT), was the next tech on display at the SDC. This time is the new Bixby-enabled Galaxy Home Mini, which promotes continuous IoT experiences when managing connected devices, and offers powerful audio quality.
Blockchain technology is already making wave in the world, as such
SDC19 offered partners and developers a chance to learn more about it.
SDC attendees eagerly explore the various blockchain innovations being displayed at SDC19. Included among these is the new Samsung Blockchain Platform SDK, which opens up exciting opportunities for developers by offering them more options for securely storing private keys, supporting cryptocurrency transactions, and enabling apps to be smoothly integrated into a mobile space.
More stories loading up in the day 2 of the conference. Keep reading