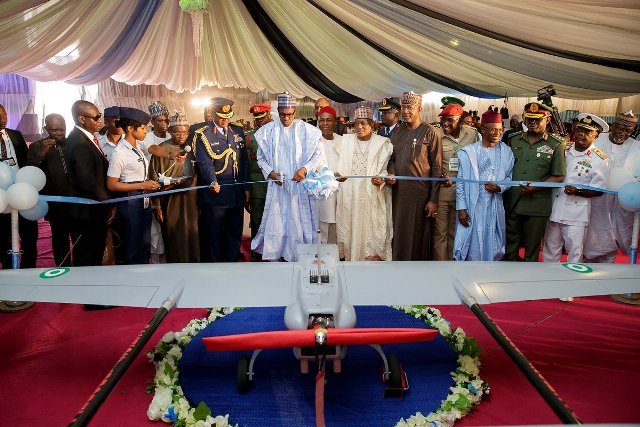 To tackle the security challenges in Nigeria, president Muhammadu Buhari unveiled a surveillance Unmanned Aerial Vehicle (UAV) produced locally by the Nigerian Air Force Institute of Technology.
The UAV named TSAIGUMI is the first indigenous operational drone to be produced in the country and will be used to fight terrorism among other crimes.
Dust and controversies emanating from the event onThursday the 15th of Feb. 2018 as it that the same UAV said to be launched by president Muhammadu Buhari is believed to be the same UAV named GULMA that was launched by the former president Goodluck Jonathan on Dec.18th 2013.
This however was clarified by the spokesman of the Nigerian Air Force, NAF, AVM Olatokunbo Adesanya on Friday. According to him, "The other one was not operational. It was a prototype. It was not prepared to conduct any operation. This one built on the earlier one and it is a much more improved version. This is a much more improved version of the other one. This one has mixed characteristics… with so many other things."
Be that as it may, this still remains a big feat for the tech space and for Nigerians by extension and deserves a huge commendation.