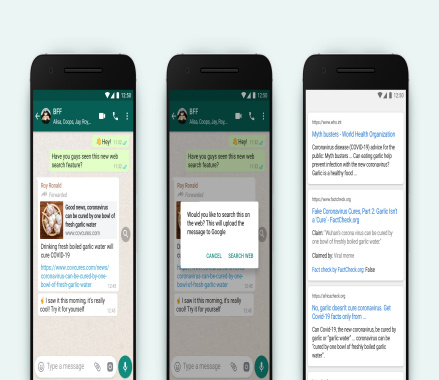 Meta's subsidiary, WhatsApp, has been on the rampage of releasing new features to improve and better users experiences on its predominantly instant messaging app.
Recently, it is giving users control over unsolicited WhatsApp calls and strange numbers that call for malicious purposes.
It's no news that scammers have taken to using international numbers via WhatsApp calls and messaging to trick and scam users of their hard earned money.
They propose part-time jobs for which most third world countries like Nigeria and India will easily fall prey to.
This and more have been the situation for most WhatsApp users , hence WhatsApp has released four new features to remedy the situation.
Silence unknown callers: Users will now be able to control unsolicited calls and strange numbers by enabling the silence feature on WhatsApp. Users can enable this feature by going to the privacy option in settings and then clicking on calls. 
With this feature users can limit spam calls, providing them with more privacy and security. 
*Nevertheless, you should adopt these precautionary measures; Do not answer the call especially if it's from an international number that you do not recognize.
*Do not respond to messages related to financial benefits particularly If you receive a message from an international number offering financial benefits, such as a prize or lottery win, it is likely a scam. Do not respond to these messages, and report them to WhatsApp if necessary.
*Block the number: Block them when necessary especially if the numbers persist calling
*Report the number: how you can do this; tap on the number in your call log, and select the option to report the number.
Other added features include;
2. Group mention: Meta is also bringing the group mention feature to WhatsApp. It was first introduced to Facebook about last year and has proven to be effective in creating awareness and notifying people about a new post , announcement, and all. This feature is only available to group admins.
3. Community entry point: WhatsApp introduces a new community entry point using a new button placed within the header. "In addition, the creator of the community can quickly create a group from the menu that appears by tapping that button," according to the app-tracking website
4. Editing messages: Have you ever thought of editing a previously sent WhatsApp message only to realize you couldn't, and only left with the option to delete? Another amazing update on WhatsApp is that some users can edit text messages within 15 minutes of sending them.
"This limit has been set to maintain the integrity of the conversation so that messages cannot be modified in the long term, as the message editing feature is only intended to correct any typing errors," said WaBetaInfo. 
However, users can only edit messages sent from their devices and not messages sent from other devices.
The new features are available to beta testers and those who install the latest version of WhatsApp beta for iOS and Android for now but will be rolled out to more users over the coming weeks