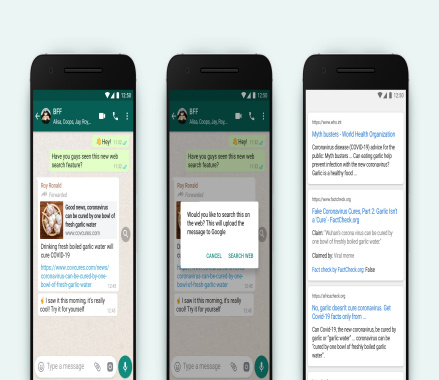 WhatsApp has just released a new feature, Search the Web, to curb the spread of misinformation on it's platform. The Facebook owned platform has since been on the cause of fighting fake news parading the social network with its initial release of a special forwarded label to messages shared in chat that have been forwarded many times.
This time, the new pilot goes a step further to ascertain whether an assertion is true or false by providing an option to "Search the Web", "without WhatsApp ever seeing the message itself". It has "a simple way to double check these messages by tapping a magnifying glass button in the chat", WhatsApp said.
Search the web is being rolled out starting today in Brazil, Italy, Ireland, Mexico, Spain, UK, and US for those on the latest versions of WhatsApp for Android, iOS and WhatsApp Web.
Do you think the new feature is a fit to check misinformation? Chime in