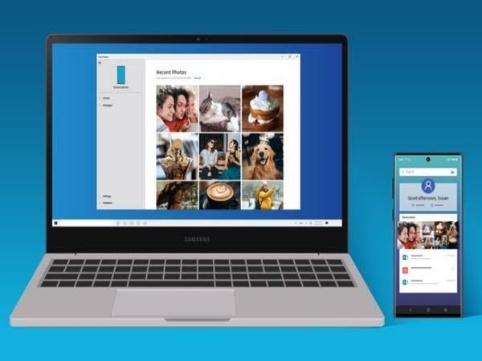 If you consider the use of USB cables and emails to transfer your photos and files from your mobilephone into a desktop/ laptop and vice-versa to be quite daunting, Microsoft and Samsung now have a more seamless approach.
Microsoft's latest windows 10 insider build can now already allow wireless (Wi-Fi) file transfers to and from Samsung phones.
Earlier on, Microsoft introduced copy-pasting, notifications and answer calls feature from Android devices.
How to enable windows 10 and Samsung Galaxy wireless file transfers.
—Download and install Microsoft's "your phone" software into your desktop / laptop.
—Also, download and install Samsung's "Link to Windows" software.
Long press and select files to be transferred and send.
But, in order to transfer files from your PC to phone, quickly drag n' drop selected files to the "your phone" window.
You should note that, not all Samsung Galaxy phones support this latest feature. However, only the Galaxy S10 and S20, according to SamMobile are built for wireless files transfer between windows 10 and Samsung phones, at least for now.
Some pitfalls to be considered are:
—File size is limited to 512MB, meaning larger files cannot be transferred.
—Transfers are also limited to 100 files.
—Finally, your phone and PC will need to be on the same WiFi network and the service requires Samsung's Link to Windows 1.5, which isn't necessarily supported on all Galaxy devices.
Meanwhile, prior to now, most people have always leaned to the option of third-party apps including Microsoft's ActiveSync for Windows Mobile. But my guess is, the Wi-Fi enabled feature is the buzzer!
What do you think?