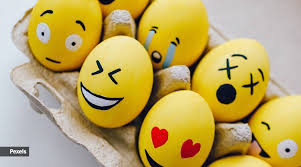 World Emoji Day is an annual celebration that takes place on the 17th of July. This came as a result of frequent use of emoticons and the undeniable relevance in digital communications.
Today, you can hardly convey a message without having an emoji attached to it because they pretty much send home an idea, expression, feelings, moods, etc., better than any digital message or conversation without it.
World Emoji Day was first launched in 2014 by Jeremy Burge, the founder of Emojipedia, to celebrate the use and impact of emojis in our daily lives.
What are emojis?
They are pictographs that are commonly used in text messages, social media posts, emails, and various online platforms to convey information and add a touch of fun and creativity to digital conversations. It originated in Japan and have gained worldwide popularity.
Read also;
Twitter Introduces 40 Amazing Avengers Emoji Of Superheroes
Now, let's look at 12 most popular emotions
❤️ Red Heart: The red heart emoji is often used to symbolize love, affection, and deep emotions. It's usually used alongside other emojis to send birthday wishes to celebrants.
???? Laughing face: The laughing face emoji is often used to express excitement and joy.
???? My love: The my love emoji indicates strong love. It is used to express love to a loved one.
???? Thanks: The thanks emoji is often used to express gratitude for something done.
???????? Dancing: The dancing emoji represents intense joy, happiness or a strong emotional reaction. It is commonly used to express extreme excitement.
???? Smiling Face: A simple smiling face emoji that is used to express general happiness, friendliness, or positivity.
????Thumbs up: The thumbs up emoji indicates that you're doing well and should keep at it. It is used to encourage an action or perspective.
???? Champaign: The Champaign emoji is indicates a grand celebration. It is used to celebrate great achievements.
???? Face with Tears of Joy: This emoji represents laughter and is commonly used to express amusement or to indicate something is funny.
???? Loudly Crying Face: This emoji represents intense sadness, grief, or a strong emotional reaction. It is commonly used to express extreme emotions.
????Disappointment: The disappointment emoji indicates distrust. It is used in expressing lack of trust and disappointment with people or events
????Applaud: The applause emoji indicates approval and endorsements. It is used to describe how good and action or idea is and pledges support for it.
featured image credits, The Indian Express