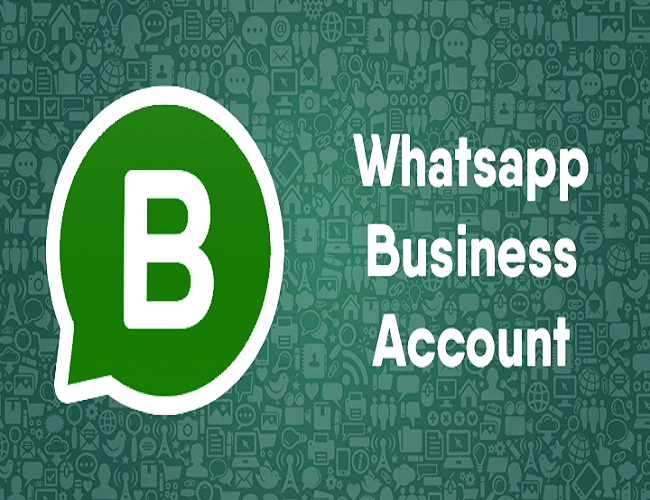 "A comfort zone is a beautiful place but nothing grows there" is typical of the regular WhatsApp, hence the need for a WhatsApp Business to grow your business.          
 "WhatsApp Business" is an app that is specifically designed for business. It offers a platform for businesses to interact better with their customers by providing updates, support, payment options and more. It is a separate app from the regular WhatsApp, and since it's a platform that is strictly meant for business owners, customers use the regular WhatsApp to interact with their vendors.
"WhatsApp business" features  
The "WhatsApp Business" has more added features to the regular WhatsApp which tailors it to strictly business needs and they are the following:
Business information: this option enables you to create a full business profile for easy identification. As a business owner or manager, you are to add the physical address, business category, business description, business hours, email address, website address of your business.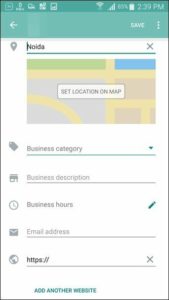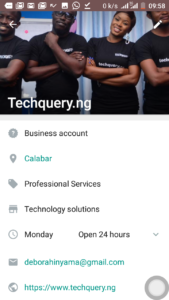 To download the "WhatsApp Business" (WB) app: go to playstore and download "WhatsApp Business", then install, if you haven't before you can add your business information.
To add business information: Launch Whatsapp Business App
Go to settings->Business settings->profile
Set a "greeting message": Set your virtual business reception desk by setting up greeting messages that introduce the customers to your business. It is important because it keeps track of your customers. For instance, when a customer messages you for the first time and after 14 days of inactivity, you can set the app to send a custom greeting message to them.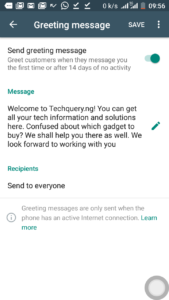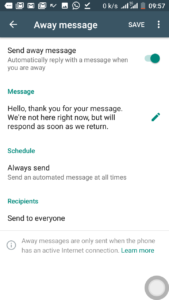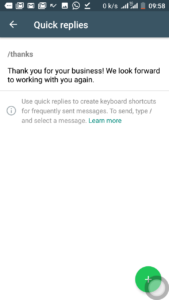 To set a custom greeting message: Go to WhatsApp Business app setting-> Business settings  -> Greeting message
2b. Set "Quick replies": this is to ensure that quick replies are sent to frequently asked questions.
To set quick replies: Go to WhatsApp Business app setting-> Business settings -> Quick replies
2c. Set "away messages": set your away messages for use during off hours or when you are busy
Statistics: this is an important feature model. It provides business owners with a simple report about the number of messages that were sent, delivered and read so that you can know how to optimize your interactions subsequently.
What you need to run WhatsApp Business                                                                  
A smartphone that runs Android OS
An official business number, best if it is a separate number altogether which will be used to interact with customers.                                                                                  Note: what and how you plan to use WhatsApp Business is totally up to you and the nature of your business.
Share your experience using this platform for business in the comments below