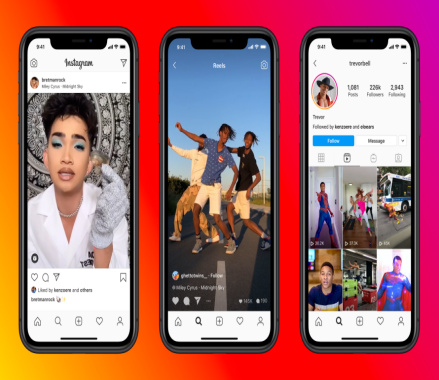 A couple days ago, Instagram announced Instagram Reels: a new way to create and discover short, entertaining videos on Instagram.
Reels lets people create fun videos which they can share with their friends or followers. Users just have to select Reels on the Instagram camera, and they can start recording 15-second clips with audio and creative effects. Reels are then shared to a separate section in Explore, as well as be uploaded to the news feed as a regular Instagram video post.
How to create Reels.
Select Reels at the bottom of the Instagram camera. You'll see a variety of creative editing tools on the left side of your screen to help create your reel, including:
Audio: Search for a song from the Instagram music library. You can also use your own original audio by simply recording a reel with it.
AR Effects: Select one of the many effects in our effect gallery, created by Instagram and creators all over the world, to record multiple clips with different effects.
Timer and Countdown: Set the timer to record any of your clips hands-free. Once you press record, you'll see a 3-2-1 countdown before recording begins for the amount of time you selected.
Align: Line up objects from your previous clip before recording your next to help create seamless transitions for moments like outfit changes or adding new friends into your reel.
Reels affords you to share your videos on public and private account without violating your privacy settings. You can share reels with your followers or get discovered by the larger Instagram community in Explore.
Watching Reels is quite an exciting adventure. Reels in Explore showcases the best of trending culture on Instagram. Discover an entertaining selection of reels made by anyone on Instagram, in a vertical feed customized for you. If you love a reel, you can easily like, comment or share it with your friends.
Reels is available in 50 regions including the US. Just so you know, Reels is Instagram's answer to TikTok as well as  transfer of more data from the Chinese to the US.
Can't wait to explore the incredibly exciting Reels while exploring its amazing features. What about you? Chime in