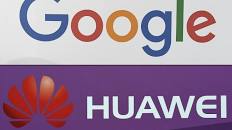 Huawei's android license has been cut off by Google. The US company (Google) has suspended any further business with the Chinese company, Huawei, as confirmed by the Verge.
The Verge reached for comment, a Google spokesperson said only "We are complying with the order and reviewing the implications." The order, in this case, appears to be the US Commerce Department's recent decision to place Huawei on the "Entity List," which as Reuters reports is a list of companies that are unable to buy technology from US companies without government approval.
Recall that Huawei has been under siege by the US government over using its equipments as a spying tool on America networks. Although Huawei maintains that it is not possible for the Chinese government to infiltrate the US with its equipments, and has remained optimistic about the future of its business.
However, losing its android license is going to be a huge blow on the Chinese company. Huawei's restriction from using the Android Open Source Project (AOSP), is cutting the company off from critical Google apps and services that consumers outside of China expect on Android devices
Speaking to Reuters, a Google spokesperson confirmed that "Google Play and the security protections from Google Play Protect will continue to function on existing Huawei devices." So while existing Huawei phones around the world won't be immediately impacted by the recent development, the future of updates for those phones as well as any new phones Huawei would produce remains in question.
Huawei, however, preempted this was going to happen but didn't know how soon, as a result started developing its own operating system. Well, looks like they've been caught up in the competition.