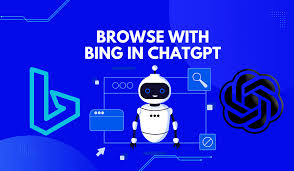 Chatgpt has been around since its official launch last year. It's been improved by adding more features and other details to its existing version which has led to the three different versions of ChatGPT: Legacy Chat ChatGPT 3.5, Default Chat ChatGPT 3.5, and ChatGPT 4.
The first two versions are free and they provide pretty much great answers to your questions when issued precise prompts. But if you're looking to get some smart answers to some challenging questions, ChatGPT-4 is your best option. However, it's not free.
Speaking of features, the company openAi announced on oct 17th. 2023, that "Browsing" feature which was undergoing beta testing was moving out of beta. Adding that "Plus and Enterprise users no longer need to switch the beta toggle to use browse, and are able to choose "Browse with Bing" from the GPT-4 model selector".
Recall that Microsoft invested heavily into its partnership with open AI to the tune of 10 -13 Billion US Dollars soon after the company officially launched its Chatgpt service in 2022. And to further strengthen their partnership, earlier this year, 2023, Microsoft launched a new Bing with Chatgpt integration: the new Bing which is now moving out of data is expected to provide complete answers when asked real questions, chat and create.
Bing + ChatGPT can now browse the internet to provide you with current and authoritative information, complete with direct links to sources. It is no longer limited to data before September 2021.
How to enable Browsing in your beta features setting.
Click on 'Profile & Settings'

Toggle on 'Browse with Bing'
Choose Browse with Bing in the selector under GPT-4.
Also, openAi has integrated DALL·E 3 with ChatGPT which allows your requests to be responded with images. The company announced that DALL.E 3 is rolling out in Beta in October 16, 2023.
"From a simple sentence to a detailed paragraph, ask ChatGPT what you want to see and it will translate your ideas into exceptionally accurate images." OpenAI said in a blog post.
How to use DALL.E 3 on both web and mobile
To use DALL·E 3 on both web and mobile, choose DALL·E 3 in the selector under GPT-4. The message limit may vary based on capacity for now.
Voice prompts are not left out: Voice (Beta) is now rolling out to Plus users on iOS and Android
You can now use voice to engage in a back-and-forth conversation with your Chatgpt. Speak with it on the go, request a bedtime story, or settle a dinner table debate.
How to get started on the voice;
To get started with voice, head to Settings → New Features on the mobile app and opt into voice conversations. Then, tap the headphone button located in the top-right corner of the home screen and choose your preferred voice out of five different voices
The company supports so many languages including;
ChatGPT now supports a limited selection of languages in the interface:
Chinese (zh-Hans)

Chinese (zh-TW)

French (fr-FR)

German (de-DE)

Italian (it-IT)

Japanese (ja-JP)

Portuguese (pt-BR)

Russian (ru-RU)


Spanish (es-ES)
image credits, medium