Hey, just look around you, what is the closest thing to you? Of course, the phone that's in your hand right now or the laptop sitting on your lap. What if an "Olly robot" becomes your closest pal?
Truth is, in a technology world, unconsciously your closest pal is your device because they accompany you everywhere and are always with you. To consolidate it, Emotech company has developed Olly robot that redefines the relationship between human and technology.
Olly is a home robot pal who loves to express itself any way it can through sound, colour or movement. Just like humans, it's full of all the latest technology that allows it to learn and adapt to you. With its sense of hearing and seeing, it can interact with people in a more natural way. Olly proactively starts a conversation rather than just reacting to a command.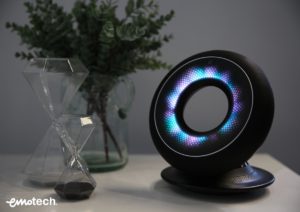 Features
Vision-enhanced natural voice interaction
Scene understanding
Expressive Visual Interaction System
Emotional character engine
Multimodel user-recognition
Activity recognition
How it works
Voice and image are Olly's two major points of recognition and interaction. But it uses vision to enhance its beam-forming microphone array technology by visually analyzing the surrounding environment to understand room type and any obstacles that might be in the way between you and olly.
Olly understands your facial expressions, vocal intentions and verbal patterns. So if you are happy or sad, Olly sees it and hears it. Interesting! This understanding allows Olly to move and talk to you in an unimaginary way.
"Olly recognizes what you're doing and can also learn the intention behind," says the company.
Olly is shipping from this May and you can preorder it from Indiegogo.