Hey, Guys, before going for a haircut, you can try out this stylish hairstyle and mustache and select an appropriate and matching style for you. Also for barbers who want to give a professional hair cut to keep their customer base up, here is my recommended app for you. We are bringing this technology to you because we understand that you will be needing it to experiment with as you cannot experiment with real hair and beards before the actual barbering process . Therefore we are introducing you to the Man Hair Mustache and hair Style PRO app that makes your hair and beard style preview possible.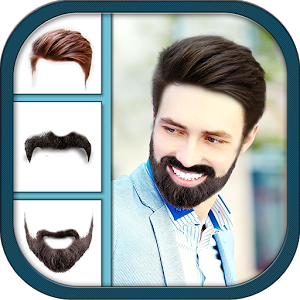 How to use :-
1.Select your photo from gallery or capture from camera.
2. Choose your hair / mustache / beard / sun glasses style.
3. Scale and rotate to fit hair / mustache / beard / goggles style to your face( both with slider bar and fingers).
4.Add color to hair and mustache / beard. Now you can add color to goggles also.
5. Add caps and tattoos to your photo .
6. Erase unwanted portion from your photo.
7. Flip left and right.
8. Apply effects to the final output.
9. Share your photo with Facebook, Instagram etc to your friend , family and hair stylist.
10. Save your creativity to gallery (Please try to check in albums folder to find your saved image).