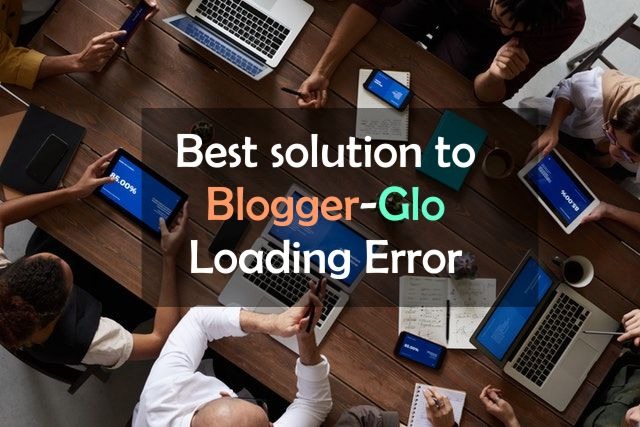 It's no news that blogger websites linked to a custom domain are not opening on the Glo network. But just like any other problem we face in life, this one has a solution.
There is more than one way out of this problem but they always seem to have certain limitations and flaws. But don't worry; this is the best solution to your Blogger custom domain and Glo conflict.
If you are still using the blogspot.com extension, your website will work just fine for users on all networks. But once you get a custom domain or third-party URL for your blogger blog, visitors using the Glo network will no longer be able to access your website.
Let's look at some of the solutions you may find out there and their respective flaws and limitations.
Solution 1: Migration to WordPress
This is arguably the best solution to the Blogger-Glo conflict. But if you are not ready to put in a few bucks every month into your website then this solution may just lead to another problem.
Making use of a WordPress website they cannot pay for is the reason so many publishers have gone rogue, publishing misleading or fake content, cheating advertisers, to ensure they don't quit blogging because they can't pay for hosting and plugins.
WordPress is just what you need for your online business. But if you are not ready to make the financial commitments or just don't know exactly what you are walking into, I suggest you remain on Blogger and find another solution to the Blogger-Glo conflict.
And if you are moving to WordPress, you should be going to the self-hosted WordPress platform – wordpress.org. It's the best for your blogging business.
But if you are not ready for WordPress, you may use any other solution below or scroll down to find the ultimate fix for this problem.
Solution 2: Connecting your Blogger Website to Cloudflare
This is also a great way to get your blogger website on a custom domain to open on Glo. It's the simplest solution for users who do not need or are not ready for WordPress.
Connecting your website to Cloudflare is easy. Just scroll down a little bit further and you will find it. But there is something you need to know before making use of this solution.
If you launched your Blogger website with the blogspot.com extension before linking it to a custom domain, you will lose all the links redirecting from the Blogspot extension. Let me come down to earth now.
Say, you launched your website with wetinconcernme.blogspot.com, published articles and got a number of backlinks to your website. But after some time, you decided to get a third-party URL for your Blogger blog at wetinconcernme.com, if you connect wetincocernme.com to Cloudflare, all links from wetincocernme.blogspot.com will no longer redirect to wetincocernme.com.
Search engines won't be able to get through and anyone who clicks on wetincocernme.blogspot.com or any other subdirectory will arrive at a page similar to what you have in the image below.
If you must use this option, then you must know how to remove the blogger redirection page.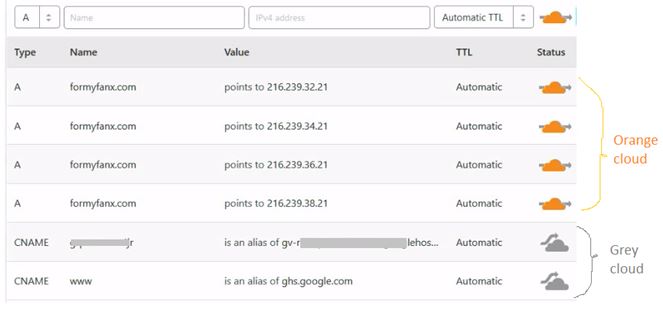 If you launched your Blogger website with the Blogspot extension, used it for some time and you are not ready to move to WordPress, then scroll down to the Best solution to the Blogger-Glo problem.
Grey-clouding the Status icons on Cloudflare
Just before we drop this ultimate fix, let me deal with a misconception regarding the Cloudflare status icons.
When people connect their websites to Cloudflare only to find that their Blogspot extension is no longer redirecting as it should, they decide to grey-cloud the Cloudflare status icons on Cname records in the DNS sections.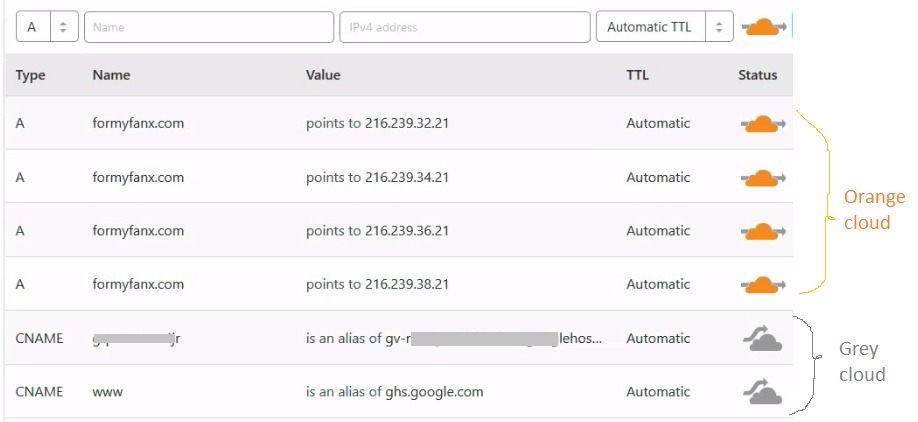 This may allow your extension to redirect properly but it also gives back to you whatever problem it is you were trying to solve with Cloudflare.
Though your site may still be connected to Cloudflare, once you grey-cloud the status icons you are simply taking content delivery privileges – which is the only way they can help you with your problem – from Cloudflare and handing them back to Blogger to continue serving you with whatever problem it is you were trying to solve by connecting your site to Cloudflare.
So having looked at the solutions presented above, you may still be in need of a better solution. Look no further this is the best solution to your Blogger-Glo issues.
The Best Solution for Blogger Custom domains not Opening on Glo
You can solve this problem in two well-defined steps:
Connect your Blogger custom domain to Cloudflare
Set up a redirect on your blogspot.com extension
Here is how to go about it.
Connect your Blogger Custom Domain to Cloudflare
Follow the simple steps below to connect your blogger website to Cloudflare:
Log on to www.cloudflare.com
Sign up, or log in if you already have an account
Add site to Cloudflare; enter your website URL and click on Add site
Wait for DNS querying to complete; click on Next
Select a plan and click on Confirm plan
Confirmplan to proceed
On the Domain Name System (DNS) Settings page, orange-cloud all the status icons
Click on next
Copy the Nameservers provided by Cloudflare and replace the ones at your registrars' with them. Each registrar – whether Namecheap, Godaddy, Domainking, etc. – has nameservers. Change theirs to a custom nameserver – the ones provided by Cloudflare.
Save changes and allow some time for changes to propagate
On Cloudflare, select the Speed tab and check the three boxes to minify Javascript, CSS, and HTML. This will help with your page speed.
That's it! You have successfully connected your Blogger website to Cloudflare and this should allow Glo users to be able to visit your website.
But if you launched your website with the blogspot.com extension as discussed in Solution 2 above, please set up a redirect on your blogger extension as shown below.
Set up a Redirect on your blogspot.com extension
To make this process as easy as possible, I made a video. This is a very simple thing to do but could be difficult to understand. So I made a video to make it easy to implement.
Javascript
<script type='text/javascript'>location.href= "https://www.yourwebsiteUrl.com"+location.pathname</script>
Robots.txt
User-agent: Mediapartners-Google
Disallow:
User-agent: *
Disallow: /search
Disallow: /*_archive.html$
Sitemap: https://www.yourwebsiteUrl.com/atom.xml?redirect=false&start-index=1&max-results=500
Remember to replace "yourwebsiteUrl" with your website's domain name.
Your setup is complete. Now anyone browsing with the Glo network can view your Blogger website.
I hope Blogger will give us the option to perform redirection for entire blogspot.com extensions from the Dashboard so we won't have to create new blogs just to setup redirection commands.