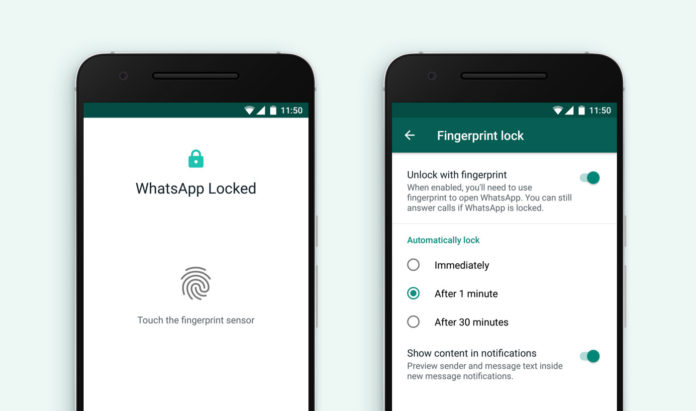 WhatsApp's long promised unlock feature is now on Android. This is part of Facebook's way to consolidate its security goals and abate privacy violations across its platforms.
Speaking of violations, there've been series of complaints from users who have been personally violated by family, friends and colleagues. And, which have caused them a lot of damages. These use cases have had to happen because there were no options to lock up chat conversations other than delete them. And in most cases, deleting chat conversations may not be the bail out.
However, that is about to change now; According to whatsApp's announcement, there will be fingerprint unlock option, other than the usual phone's unlock option, that will be enabled in the App's setting menu to keep your messages safe. 
How it works
Launch WhatsApp>
Tap Settings > Account > Privacy > Fingerprint lock. Turn on Unlock with fingerprint, and confirm your fingerprint.
There are options to let the app remain unlocked for one or 30 minutes after you unlock it, and there's also a toggle to prevent the contents of your messages from appearing in notifications.
WhatsApp says, this feature will be available for some regions yet, but will go round in no time. However, iOS users already had access to this feature earlier on in the year.