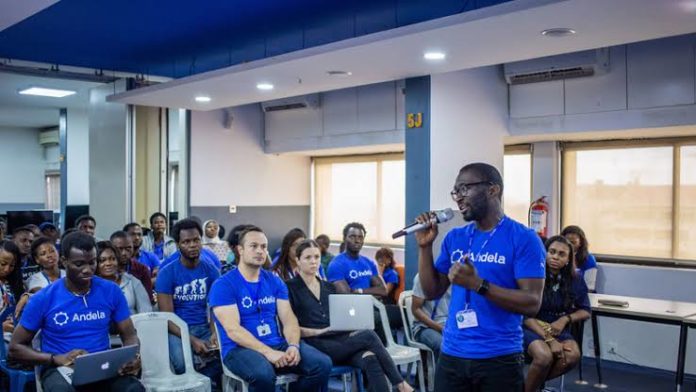 Andela, a wide acclaimed tech facility, is laying off more than 420 employeess across three countries 250 (Nigeria), 170 (Kenya & Uganda), into the marketplace. The IT company which is grossly known for training a number of inexperienced tech developers is putting an end to its training programme as it changes its business model away from developer training to focus on recruiting experienced developers for its customers.
The facility was cofounded by Iyin Aboyeji in 2014 with the idea of aiding African developers improve their talents, while helping them secure jobs and experiences with tech companies; Interested developers are trained for a period of 6 months, afterwhich developers sign a four-year agreement before being outsourced to work remotely for Andela customers like Facebook, Microsoft and Google.
Andela's decision to stop its training programmes in Nigeria, Uganda and Kenya, excluding Rwanda, is to restructure its business model for a long-term success. "To succeed in our long-term mission, we have to make tough decisions to continue growing a company that we know will change the way the world thinks about talent," said David-Ashiru.
According to CEO Johnson, Andela had a spill of junior developers that they could carter for. "This shift in demand also means that we now have more junior talent than we are able to place. This is a challenge for the business, and for these junior engineers who want, and deserve, authentic work experiences that we are not able to provide," Johnson said.
Therefore, it has to reduce its focus on junior developers as "demand is heavily skewed towards more senior talent."
Speaking in an interview with Quartz, Seni Sulyman, Andela's Vice President of Global Operations, explained that the change was necessary to enable them standout amidst the rise of developer training schools like Lambda and Flatiron in the US which offered a reduced training period for developers. 
 "[Also] Computer science schools in universities have also ramped up their programs," he added. "What that has done is create a massive flux of junior engineers in the US…which is our primary market."
While Andela layoff 420 junior developers, it is looking to recruit over 700 senior developers come 2020. "As the talent world has evolved, we have as well," said Johnson, CEO of Andela. "It has also become clear that majority of the demand is for more experienced talent, and to keep up with it, we need to grow our senior talent base even faster," he explained.
As it is common with massive layoffs, what becomes the fate of the over 400 sacked employees? Andela says it is partnering with three tech hubs in Kenya (iHub), Uganda (Innovation Village) and Nigeria (CcHUB) to absorb the sacked developers into their local ecosystems. "Our immediate focus is on providing practical support to those employees who are impacted by the restructure," said Omowale David-Ashiru, Andela Nigeria Country Manager. "And we will provide them with the resources they need to succeed in their next steps," he added.
Andela has so far received a funding of $181 million. And projecting a revenue of $50 million in 2019.
What do you think of Andela's restructuring venture? "Good" or "not so good"?