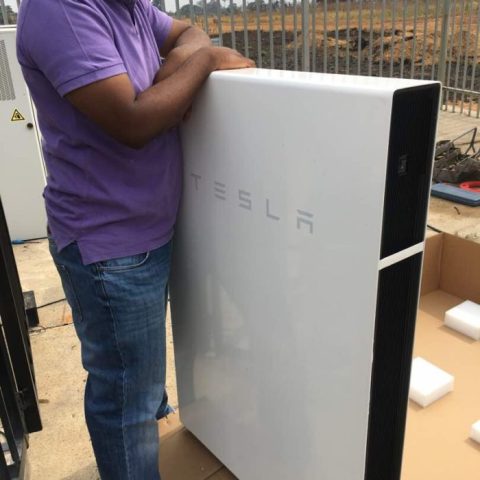 Power supply, as the one most basic need of man is arguably in short supply in Africa. This has further affected her economy in the most terrifying way. And now, Tesla is going to wade in by sending 520 power walls to Africa, precisely Zimbabwe to help keep the lights on.
Africa's telecom, Econet, is at the frontiers of the initiative known to employ Tesla services in order to keep their important network online despite frequent power outages in Zimbabwe.
Econet has experienced a set back in its service delivery due to frequent blackouts and burnouts of electric grids which in turn cripples the telecommunication networks, especially for a country that largely depends on mobile money for transactions.
The need for Tesla power wall support at Econet's telecommunication towers becomes pertinent to provide backup power if there's power outage.
Norman Moyo, CEO Econet's energy division stated that last year's impressive trial has given birth to more initiatives with the famous electric car company Tesla. "We were impressed with the performance of Tesla Powerwall during the trial stage. It addresses the power back up requirements, offers 100% depth of discharge and has a wide temperature operating range."
Adding that the current issues of vandalism and theft being experienced with lead acid batteries in the country have been migitated by Tesla's real-time monitoring of Lithium ion batteries.
"It also offers real time monitoring and will help mitigate against current battery theft issues being experience with lead acid batteries." Moyo said.
Econet believes that Tesla's energy storage systems will further improve the quality of services it renders while reviving the businesses of the country as people pay their bills and make transactions to keep the economy going. " Businesses are looking for solutions to secure reliable energy supply, and the replacement of lead acid batteries with Lithium ion batteries like these is the solution to insure against asset loss and reliable power backup." Moyo said.
The Telco announced that they will be installing 520 Tesla Powerwalls at 260 Econet sites, with "the first 65 sites to be installed in the coming months." It is also looking to expand their project with Tesla to Econet's other sites and more countries.
We're hoping that other countries in Africa will emulate Zimbabwe by partnering with global leaders in the Solar ecosystem in order to improve the economy and living of its citizens.
Tesla, Inc. is an American automotive and energy company based in Palo Alto, California. The company specializes in electric car manufacturing and, through its SolarCity subsidiary, solar panel manufacturing. Elon Musk is the company's CEO