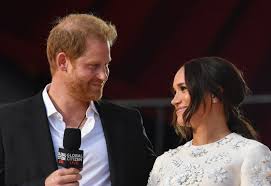 Netflix reportedly wants to follow Spotify's lead and "pull out" of its AUD$152 million deal with the Duke and Duchess of Sussex. But appears it may not.
Since stepping back from royal life, Harry and Meghan have focused on making money through media ventures, such as the duchess's Archetypes podcast, Harry's tell-all autobiography Spare and an agreement with Netflix to producing streaming content, including a docuseries about their relationship with Britain's royal family
The Spotify deal started out successfully as it topped the podcast charts for Spotify in a number of markets but was short lived. The The podcast featured conversations with friends and celebrities including Serena Williams, Mariah Carey and Trevor Noah.
The $20 million, multi- year deal with Spotify which started in 2020 however ended after the first series which according to an unnamed source close to Spotify, the couple did not meet the productivity benchmark required to receive the full headline payout from the deal, the Wall Street Journal reported. Hence the pullback from the deal.
One of the Senior executives at Spotify described the couple as bleed grifters who basically took their money and didn't deliver. However, the couple claimed they're being owed $60m by Spotify.
Few weeks on, another tech company Netflix in which the Sussex also had a deal with announced it was reviewing its deal of $100 million deal with the Duke and Duchess of Sussex.
Although the move suggested that it might pull out of the deal, Netflix has given Harry and Meghan an automatum to produce higher quality and more content otherwise they could not be paid.
GB News host Nigel Farage says there won't be any more content from Prince Harry and Meghan Markle because the pair are "empty vessels".
Does it mean the couple didn't produce higher quality content or it's just pulling the page from Spotify?
However, the company's spokeswoman said that Netflix valued their partnership with the Sussex couple. Adding that Harry and Meghan was their biggest documentary debut. And that they "will continue to work together on a number of projects "
What caused the " tornado"? It is known that the recent turn of events between Spotify ,Netflix and the Sussex couple happened as a result of an interview Harry  with orprah 2 years ago where he admitted that Netflix and Spotify deals weren't originally part of their plan but were suggested for financial security.
So it just happened that the Duke was caught up in his words and Karma perhaps visited.
The recent turn of events have received mixed reviews from critics.
What does this mean for the couple who always wanted to have their private lives away from all the drama in the palace?
First is the terrible invasion of their privacy. Something they never wanted for themselves.
Next is critics projecting that this could be the end of their marriage.
@lucy2014 •
1 think I speak for most Americans when I say we could care less if they drop into obscurity! When Meghan finally dumps Harry, he's going to be a man without a country. Oh well, c' la vie, or in the words of Rhett Butler "Frankly my dear I don't give a damn"!!
Other fans feel that the couple's actions may have been misunderstood:
@MoonlitMind •
His mother was killed, and he suffered a tragic loss at such a young age! I have to say Harry is quite noble to stand by the one he loves and walk away from exposing his wife to the potential same struggles his mother suffered. I don't think this should have caused a rift with his family. I definitely find the bad press disheartening!
@mariahayworth4840 •
My heart eeps constantly for these two poor misunderstood people. God bless them.
Would this affect Meghan's brand? Speculations have it that they couple are losing popularity and as such will go into extinction in no time.
One of Hollywood executives said in a message referring to Meghan that being famous doesn't make you great at something. This is definitely going to affect the Hollywood star
@lincliff663 •
Netflix & Spotify were pretty clueless, too. They signed up 2 people who had zero experience for obscene amounts of money. The contracts should have be reviewed/terminated as soon as it was evident they were bone idle, miserable and lacking charisma. None of this has been a surprise to most people but I hope the two companies have learned from it.
The couple seems to be hated by a lot more people than they are loved. Could there be some sort of conspiracy here or perhaps the media is working against them???