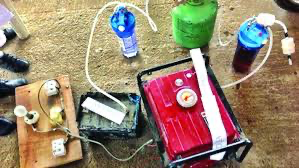 As Nigeria looks to explore several options to revamp its economy after a long recession and steady economic downturn, she has come up with some ideas to address the challenges facing her country in terms of its economic prospects.
It's no news that the primary reason for the steep decline in the value of her currency has been pegged to low production and exportation levels in the past.
Recently, one of her citizens, a lecturer at the Federal University of Agriculture, Abeokuta, Prof. Samuel Oluwalana, has proffered indigenous approach to solving the problem and urged Nigerians to model the solution.
The prof. points to natural resources which also includes those that may not necessarily require heavy processing to be consumed leading to almost zero capital in investments.
He was of the opinion that the US government makes a whopping amount of $3.5 Billion every year on processed human faeces. "Human faeces can be processed into charcoal for cooking. Now, Americans will be making $3.5 billion every year from gold extracted from human faeces. They are also taking human faeces to space to protect the astronaut."
He added that Nigerians need to think out of the box; "in Kenya, human faeces are used to make bridges and build houses. There are new toilets that are constructed, it helps to convert human faeces to cooking fuel. Hydrogen can be made from human faeces. You can now transplant human faeces from one person to another. We need to be creative."
The prof also said that Nigeria has a great chance to get billions of naira from the exportation of a large number of cockroaches to China, where they are consumed. China is known for its vast consumption of arthropods and insects.
According to him, one butterfly is bought for $500 in Singapore. We can imbibe the South African culture by producing bees. Cricket also generates money. Nigerian scorpion, one is $50,000.
"A gallon of 4.75 litres of the venom is $99 million. The Chinese are taking it away, no one is questioning them. Instead of destroying scorpions, you can sell them.
He added, "Cockroaches are the number one food now, we don't eat cockroaches in Nigeria, they eat in other places, we can produce and send to them, and they will buy. There is a man in China, that has up to six billion cockroaches, overnight, he became a multi-billionaire.
Citing cases from indigenous knowledge, some of the uses of forest and animal resources for health, commerce and wealth creation, he wondered why some of the uses of forest and animal resources for health, commerce and wealth creation.
Also why Nigeria, which is enormously blessed with vast forest resources, should be wrestling with apocalyptic poverty and health challenges.
The lecturer and prof said these while speaking in Abeokuta on the theme, "Unearthing The Treasures In The Forest" at the 47th Annual General Meeting of the Abeokuta Chamber of Commerce, Industry, Mines and Agriculture, Abeokuta.
Do you think it's a step in the right direction for Nigeria and Nigerians to revamp their economy once again?
featured image credits, Guardian