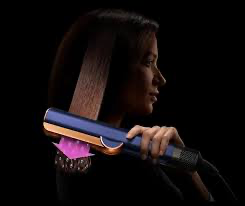 If you dread styling your hair because it takes too long, or are constantly complaining about how damaged your hair feels from applying so much heat to it regularly, then the Airstrait is a worthwhile investment.
IT'S NO SECRET that Dyson has been dominating the hair care space—proving itself three times over with the fast-drying Supersonic blow dryer, the futuristic Corrale flat iron, and versatile Airwrap (all received high scores from WIRED).
But when Dyson announced the Airstrait straightener, its wet-to-dry flat iron, combining all two components in one, I knew it was going to be a knockout. Rating at 8/10 according to wired.
It listed the basic features of the Airstrait to include the following;No heat plates. Lower heat options. Multiple styling settings. Cuts hair routine in half. Can be used on wet or dry hair. Dries and straightens. Has an Auto-Standby mode.
And also listed the downsides to include; Expensive. Might not work with all hair types. Controls can be confusing.
Wired gave us a detailed review on the Dyson's Airstrait straightener. You can read all the details here