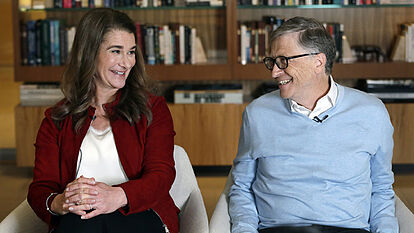 Billionaire Bill Gates, 65, and wife, Melinda Gates, 56, released a shocking news on Monday, via their respective twitter accounts regarding their intention to end their Marriage of 27 years.
The marriage union which was blessed with 3 children and a successful foundation, Bill & Melinda Gates foundation, seems to have been short lived following the split. "We have raised three incredible children and built a foundation that works all over the world to enable all people to lead healthy, productive lives," the statement says.
Although there was no awkward reason given for the split, both parties said in a statement that they wanted to chart a new cause without each other, and demanded for space and privacy in such a time, "We ask for space and privacy for our family as we begin to navigate this new life".
Is this going to affect the Billionaire's net worth?
Bill Gates has a net worth of $137 Billion, although there was no financial details attached to the public release, speculations are that a percentage of Microsoft shares will go to Melinda like in the case of Jeff Bezos and MacKenzie.
However, the couple pledged their continued cooperate support to the cause of the foundation. The statement says. "We continue to share a belief in that mission and will continue our work together at the foundation.
The sudden spree of divorce by world's richest people (past and present)especially in the tech industry is quite alarming.
The couple met in Microsoft when Bill Gates was the then CEO. In 1987, Melinda started as a product manager as the only woman in the first class of MBA graduates to join the company, and eventually rose through the ranks to become general manager of information products, according to CNN
The couple married in Hawaii in 1994 and 27 years later they're splitting.
P.S. Please, like, comment, share our post and recommend our site for up-to-date informative, educative, and of course entertaining resources. We are also open to constructive criticisms. Thanks