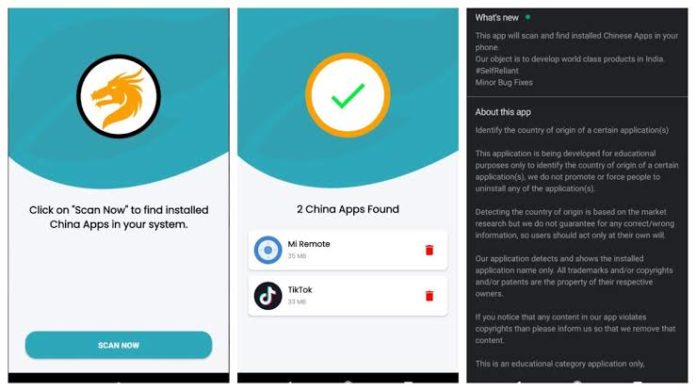 China is getting feedback in various capacities from the rest of the world over the Wuhan corona virus pandemic that has impacted the world in terrible ways. While some countries are demanding payments for the damages incurred, others have unique ways of getting at it.
One of such is the "Remove China Apps." This app was developed in India to detect apps having China's origin and delete them. For the past two weeks, the Indian app has trended on Google PlayStore recording over five million downloads with a rating of 4.8 soon before it was taken down by Google a couple days ago.
According to TheIndianExpress who first discovered Google's take down of "Remove China Apps" from playStore. It reported that, such apps including the so-called India rival for TikTok — Mitron app — were recently suspended for violating the policy that does not encourage "users into removing or disabling third-party apps or modifying device settings or features unless it is part of a verifiable security service"
The blog post further stated, "This is a longstanding rule designed to ensure a healthy, competitive environment where developers can succeed based upon design and innovation. When apps are allowed to specifically target other apps, it can lead to behavior that we believe is not in the best interest of our community of developers and consumers. We've enforced this policy against other apps in many countries consistently in the past – just as we did here."
How it works
The "Remove China Apps" scans the user's device and lists the apps with China as their origin by comparing it with the repository database of apps developed in China. The app also lets users decide which Chinese app they want to keep or remove.
India alone recorded over one million downloads before the take down. The app is in itself safe lest anyone should worry about using it.
Meanwhile, this isn't coming across as a surprise to many as China and Indian rivalry didn't happen over the Corona virus pandemic, although this may have stiffened it further. But over India's border wall encroachment by China.
However, despite the take down, if you already downloaded it prior to now, you can still make use of it.
Do you have the "Remove China Apps" already installed in your device?