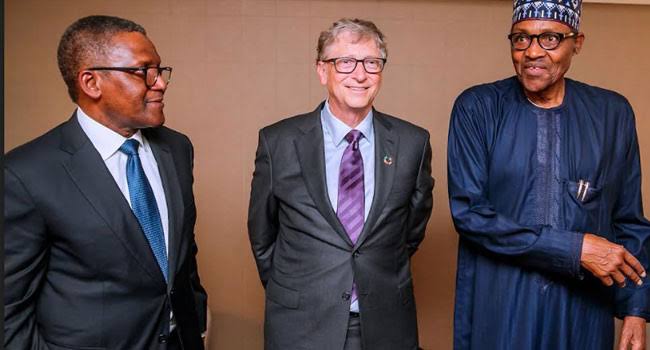 The 74th United Nations General Assembly held in New York ended on a huge promissory note of commitment to Nigeria.
World's second richest man, Bill gates, has a keen interest in Nigeria's well-being. This he expressed in a comment made to Nigeria's president Muhammadu Buhari, and Africa's richest man, Aliko Dangote at the sidelines of the event.
Gates described Nigeria as the greatest commitment of the Bill and Melina Gates foundation.
According to the president's spokesperson Femi Adesina, he said Gates told Buhari that it is only in India that the Foundation makes greater investment than Nigeria. Hence the need for greater commitment.
The statement also said that Gates highlighted that investments made in the health and Education sectors in the country have greatly improved the sectors today compared to year 2000. He particularly pointed out Polio as being eradicated from the country since three years in August.
"Every local government area has better health/education situation today than in year 2000. We are delighted about that. Nigeria is our biggest commitment in Africa. It's only in India that we do more in the world," Gates was quoted as saying.
However, he added that Gates noted that the next six months would be critical because it would ascertain if Nigeria would finally be declared polio free or not.
Other sectors like Agriculture were also reviewed in the conversations.
Bill gates was in turn highly lauded, alongside Dangote by the president for their immeasuable contributions in Nigeria's attainments on Sustainable Development Goals (SDGs), as enunciated by the United Nations. The statement read.
This day has the full news