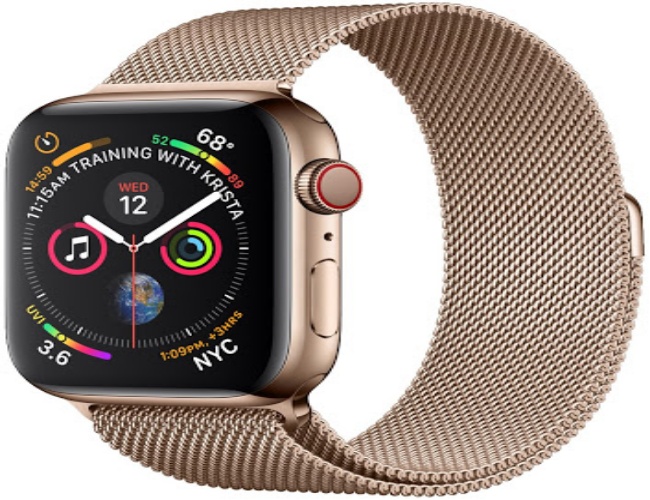 The Apple Watch Series 4 was launched alongside the iPhone XS on September 12th event in California. It is indeed an incredible device. Although it maintained the rounded shape once more, the new Apple Watch Series 4 is available in 40mm and 44mm sizes making it a little larger than its predecessors which came in 38mm and 42mm sizes.
They largeness of the new Apple watch face is intended to accommodate new features such as letting you add shortcuts to things you often interact with, like, your favorite contacts, frequently used apps and services, and, time zones you need to keep track of.
Apple's new Watch series has been optimized for watch calls; for those who take calls via their Apple watch. A new speaker that is 50% louder than Apple watch 3 is integrated in the Apple Watch 4 to improve calls experience.
Consequently, a new S4 dual -Core 64-bit CPU twice as fast as its predecessors have been added. Apple claims.
In a bid to always stay a step ahead of the competition, Apple says it has become the first to implement the ECG sensor to the new Apple watch series 4. The ECG lets you take an Electrocardiogram using the digital crown and provides the reading 30 seconds later with a rhythm classification.
According to Apple, the ECG will be able to warn of Atrial Fibrillation (AFib), which is a heart condition that could lead to major health complications. So that you're alerted if your heart rate is low, and are at risk of any ailments.
Apple Watch Series 4 has also been optimized for athletes. With improved accelerometer and gyroscope, it's able to monitor, detect a fall over, and read motion data eight times faster. In a case of a fall over, if no motion is detected after 60 seconds, the Watch can call emergency services automatically, as well as send a message and location to emergency contacts. Amazing!
The 18-hour battery life still is superb, everything else ranging from integrated GPS, optional LTE connectivity and more remain the same.
Apple Watch Series 4 is available for pre-order: Pricing for the non-LTE Apple Watch 4 starts at $399. The most basic LTE Apple Watch 4 will retail for $499.