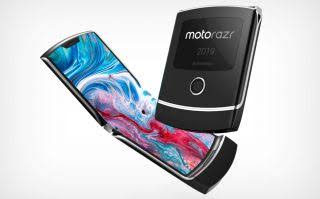 Prior to when the iPhone family stormed the market in 2007 and grabbed a share of the global smartphone market, Motorola Razor was the spotlight of all phones. It was supposedly given the name Motorola Razor because of its sleeky and portable nature which made it endearing by everyone.
Unfortunately, it also had its fair share of the market competition, with the emergence of iPhone and subsequently Samsung Galaxy smartphones.
Motorola, now reinvents the Razor into what it calls Razr, and of course exuding differences in what it represents in terms of appearance and performance.
The company parades itself as a strong competition to Samsung and Apple, and perhaps Huawei, although it didn't streamline it as to what parameters specifically. But I'm almost certain that, it ultimately has to do with foldable features of the Samsung Galaxy and Huawei mate X smartphones.
If my assumptions are valid then let's have a bit comparison of the proposed features of Motorola Razr, and Samsung Galaxy Fold/ Huawei mate X.
First, Design: the company is said to have collaborated with Lenovo in hiring a line up of experienced engineers with 4 years dedication into the design of the Motorola Razr. The design looks top-notch, but appears apparently indifferent and confusing; IS IT A FLIP or FOLDABLE PHONE? Some platforms refer to it as flip while others foldable, and yet others flip-foldable.
However, this shows that the company needs to shade more light in that regard.
5G: Recent high-end phones emerge on a promissory note of 5G which appears to be a selling point for them. Motorola Razr, however, is not steering in that direction. 5G network is the future generation, and if an emerging high-end phone does not have it in view, then it is bound to bounce.
Camera (Ultra-wide): the ultra-wide feature in recent and emerging phones provides top-notch, professional experience in camera shoots. The technology of phone cameras is advancing towards the point whereby it'll be possible to capture and process 4K objects. However, the company says camera optimization isn't the focus of Motorola Razr.
OS: Motorola Razr is proposing Android's older OS, version Android 9 pie, as opposed to latest OS Android 10 or X. Consequently, there'll be low performance of key components and software applications.
Motorola Razr will be sold on the market at $1,500 from mid December 2019 or January 2020.
What do you think of the price compared with the specs so far? It is worth $1500? Please share with us in the comment section below.