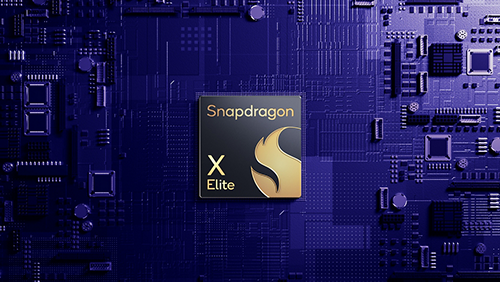 Qualcomm Technologies, Inc. has unveiled its groundbreaking Snapdragon X Elite platform, featuring the custom integrated Qualcomm Oryon CPU, positioning itself as a new leader in mobile computing. The platform promises up to 2 times faster CPU performance compared to competitors, all while using one-third of the power. Designed for AI, the Snapdragon X Elite boasts the capability to run generative AI models with over 13 billion parameters on-device, claiming 4.5 times faster AI processing power than its rivals.
Expected to debut in PCs from leading OEMs by mid-2024, the Snapdragon X Elite aims to redefine premium computing by offering best-in-class CPU performance, on-device AI inferencing, and remarkable power efficiency. Qualcomm's vision for the future includes enabling powerful productivity, rich creativity, and immersive entertainment experiences from anywhere, setting a new standard for intelligent and power-intensive tasks.
The heart of this innovation lies in the Qualcomm Oryon CPU, developed over three years since Arm acquired Nuvia in 2021. The CPU is poised to double the performance of Intel's 13th-gen Core chips, addressing previous concerns about compatibility issues and performance penalties associated with translated code. Notably, Gerard Williams, the co-founder of Nuvia and the designer of Snapdragon X Elite's Oryon CPU, previously contributed to the design of Apple's M1, adding an intriguing competitive dynamic.
During the Snapdragon Technology Summit, Qualcomm provided a glimpse into the Snapdragon X Elite's capabilities through benchmark results. While reporters were not handed Snapdragon X Elite systems to test directly, the showcased demo systems with preloaded benchmarks running on early silicon suggested promising outcomes. Qualcomm claims that the Oryon CPU is as fast as a Core i9-13980HK and up to twice as fast as the Intel Core i7-1355U. The Snapdragon X Elite is expected to outperform both a Core i7-1355U and a Core i7-1360P, offering performance comparable to the Core i9-13980K in certain scenarios.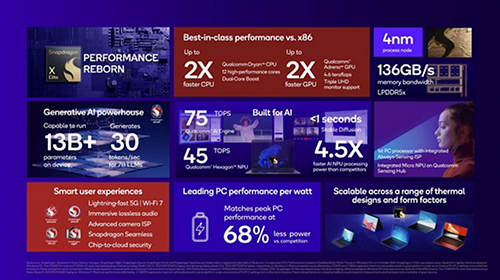 Qualcomm's test setup featured about a dozen reference machines in two configurations: one with an 80W TDP, a 3840x2160p display, and an 87Wh battery, and another slightly thinner configuration with a 23W TDP and a 2880×1800 OLED display. The Snapdragon X Elite architecture is designed to scale its performance as TDPs increase, with each of the twelve Oryon cores being single-threaded, and two cores able to boost to 4.3GHz from the base speed of 3.8GHz.
Benchmark results included single-threaded and multi-threaded scores for Cinebench 2024 and GeekBench 6, 3DMark's Wildlife Extreme GPU benchmark, GFXBench's "Aztec Ruins" benchmark, and PCMark 10's "Apps" benchmark. Additionally, Qualcomm selected UL's Procyon benchmark for AI testing.
While the results are promising, it's important to note that reporters were not allowed to physically interact with the laptops, perform tests, or examine system settings, raising questions about the transparency of the testing process. The benchmarks, though providing a range of expected scores and live tests, come with the caveat that they were run on Qualcomm-selected systems with early silicon.
In conclusion, Qualcomm's Snapdragon X Elite appears poised to deliver on its ambitious promises, ushering in a new era of premium computing with impressive CPU performance and on-device AI capabilities. However, the true test will come when leading OEMs release PCs powered by the Snapdragon X Elite into the hands of users. As the industry watches this development unfold, it remains to be seen how competitors like AMD and Intel will respond to this new player in the PC processing power arena. The Snapdragon X Elite has certainly thrown down the gauntlet, and the race for dominance in the ever-evolving world of computing is far from over.