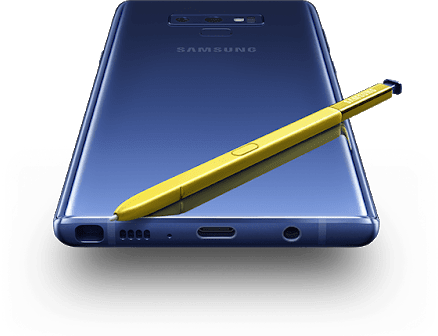 The long awaited Samsung Galaxy Note9 has landed surpassing its expectations.
Galaxy Note9 has got great features that makes it outstanding and preferred.
First, its infinity display which provides a full-frontal glass to give an edge to edge view without missing out on the detail.
The phone's battery is powerful enough to keep up with busy schedules on a charge. And an amazing storage that runs into terabyte to store voluminous work.
For a game lover, Galaxy Note9 is optimized to give a top-notch experience. Its 64-bit-octa-coreprocessor gives a high performance during game time, and complements it with a water-carbon cooling system to help prevent over-heating.
Galaxy phones never do away with the S pen which gets better with newer versions. This time the S pen is Bluetooth enabled, with intelligence for ultimate control like letting you press a button to take control of your camera, presentations, and apps without touching your phone.
Camera and selfie lovers are not left out of the technology. The Galaxy Note9 camera is optimized to adapt like the human eye for stunning shot. It intelligently recognizes what objects you're focusing on, optimizing color settings like contrast, white balance, exposure and more.
Most importantly, for any office, business or enterprise experience, Samsung Galaxy Note9 works like Galaxy Tab S4 in boosting productivity by transforming your Note9 into a PC-like experience using Samsung Dec with a single cable.
However Samsung Galaxy Note9 runs Android 8.1 Oreo as against the expectations of Android P.
Specifications in detail
OS- Android 8.1 Oreo
Camera Rear- super speed Dual pixel 12MP AF. Front- 8 MP AF
IP68 – water and dust resistance
Storage – 128GB, expandable up to 512GB via microSD Card
Display – 6.4″ Quad HD+ Super AMOLED
Speakers – stereo speakers turned by AKG, Dolby Atmosphere surround sound.
AP – 10nm 64-bit octa-coreprocessor
Battery- 4000mAh
Price: your guess is as good as mine.