Suitcases don't want to be left out of the self-driving euphoria, they want their own autonomy also, after all society today is all about freedom for self-actualization. Suitcases want their freedom to move, think and be loyal to their owners at the least.
Two companies displayed their self-driving suitcase or luggage at the recently concluded CES 2018 in Las Vegas, they are ForwardX with their product CX-1 and Puppy1 by 90Fun. Their self-driving luggages use  A.I with some level of autonomy.
The CX-1 from ForwardX robotics is the "world's first self-driving carry-on," and it features a combination of facial recognition, auto-follow capabilities and object avoidance to keep your hands free while you're walking through the terminal. After a very quick training session, which involved little more than staring into the robot's face, this little bot has no problem following behind.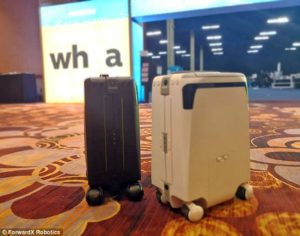 With a max speed of up to 7 miles per hour, this piece of high-tech luggage offers up to four hours of battery life on a charge, and it can also juice your gadgets using a built-in mobile charger. The company says the battery is removable, if you're concerned about airlines cracking down on checking anything with Lithium-ion batteries.
Puppy1 uses another principle for the suitcase to communicate location with owner, there's a remote hardware the owner must hold for the suitcase to track. Puppy1 doesn't have obstacle avoidance system, so it bumps into people in crowded areas.
Both companies plan on releasing their self-driving suitcase to the public later this year.