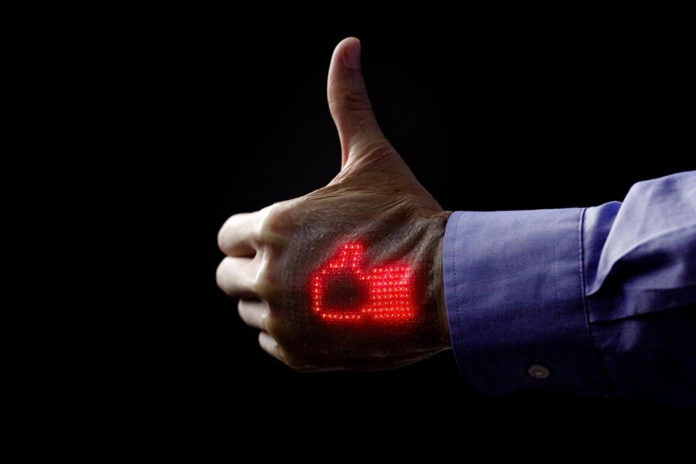 Our  normal skin works by the principle of cause and effect, that is, symptoms of diseases manifest on our skin in the form of damages. However, Japanese researchers have developed an artificial skin with electronics that tells the conditions of the body before any disease manifest on the surface.
It is sensitive to touch, temperature, etc. This latest research by a Japanese academic-industrial collaboration, led by Professor Takao Someya at the University of Tokyo's Graduate School of Engineering, is slated for a news briefing and talk at the AAAS Annual Meeting in Austin, Texas on February 17th.
How it works
It is made of ultrathin elastic material that has a display to indicate the state or condition of the human body.  The skin can show the moving waveform of an electrocardiogram recorded by a breathable, on-skin electrode sensor. Combined with a wireless communication module, this integrated biomedical sensor system – called "skin electronics" – can transmit biometric data to the cloud.
The skin display, developed by a collaboration between researchers at the University of Tokyo's Graduate School of Engineering and Dai Nippon Printing (DNP), a leading Japanese printing company, consists of a 16 x 24 array of micro LEDs and stretchable wiring mounted on a rubber sheet.
"Our skin display exhibits simple graphics with motion," says Someya. "Because it is made from thin and soft materials, it can be deformed freely."
The newly-developed skin electronics system aims to go a step further by enhancing information accessibility for people such as the elderly or the infirm, who tend to have difficulty operating and obtaining data from existing devices and interfaces. It promises to help ease the strain on home healthcare systems in aging societies through continuous, non-invasive health monitoring and self-care at home.
It will be fully ready for the market in three years time.