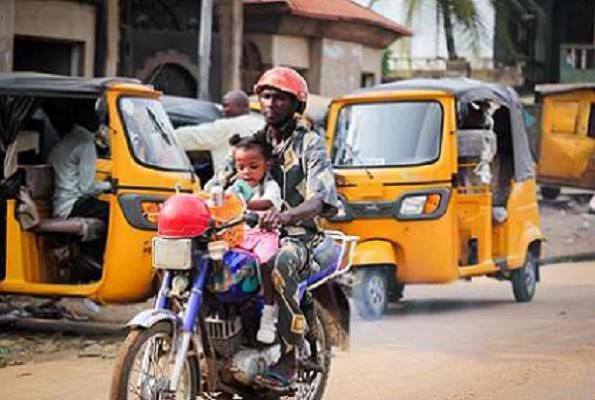 Lagos state has issued a statement to ban the use of motorcycles, popularly known as okada, and tricycles, popularly known as keke on all highways and bridges across the state with effect from February 1, 2020.
The action was taken following high level of risks incurred by the use of these commercial vehicles, as stated on Monday by Gbenga Omotosho, the commissioner for information and strategy.
According to the statement, there's been increased death and crime rate in the state, perpetrated by these means of transportation, and robust assessment is needed to be implemented.
"From 2016 to 2019, there were over 10,000 accidents recorded at the General Hospitals alone," Mr Omotosho said.
"This number excludes unreported cases and those recorded by other hospitals. The total number of deaths from reported cases is over 600 as at date.
"The rate of crimes aided by motorcycles (Okada) and tricycles (Keke) keeps rising. Motorcycles (Okada) and tricycles (Keke) are also used as getaway means by criminals."
Lagos State is the most traffic congested city in Nigeria, as such, commuters resolve to the use of Okada and keke to beat the hellish traffic to enable them get to their destinations in time.
Consequently, this has given rise to ride hailing companies like Gokada, ORide, etc, to operate with ease across the state.
Are the Ride-hailing companies included in the ban having gone through the hassle of being registered and fulfilling all necessary documentations. How about commuters who find solace in these means of transportation for their day-to-day jobs?
The government statement, however, did not state specifically if the ban affects the bike-hailing companies. But a spokesperson to the governor clarified to PREMIUM TIMES that they are included in the ban.
The ban will be enforced in 15 local governments and local council development areas across the state. They are Apapa LGA and Apapa Iganmu LCDA, Lagos Mainland LGA and Yaba LCDA, Surulere LGA and Itire-Ikate and Coker-Aguda LCDAs, Ikeja LGA and Onigbongbo and Ojodu LCDAs, Eti-Osa LGA and Ikoyi-Obalende and Iru/Victoria Island LCDAs, and Lagos island LGA and Lagos island East LCDA.
"This is the first stage of the state government's plan to sanitise our roads and protect Lagosians from the negative effects of these illegal modes of transportation," the statement said.
Is the local government where you reside affected? Please share with us in the comments section below