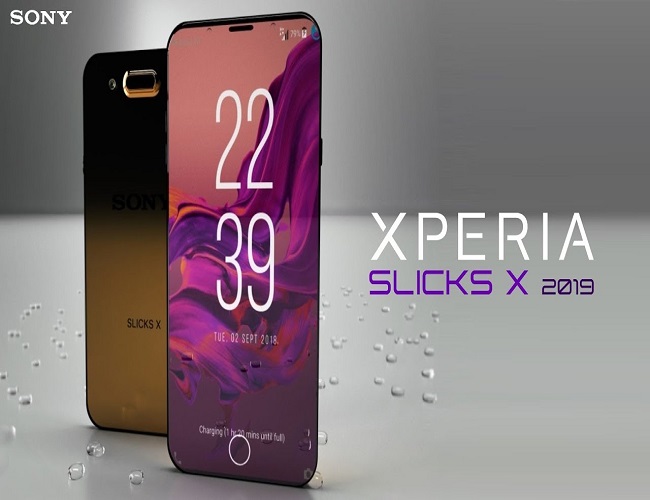 Imagine having a phone that charges itself, anywhere. Sony is going to storm the market with its new Android phone Xperia Slicks X. The launch which is slated for 2019 would herald the Sony Xperia Slicks X phone with mind-blowing features.
Here's a list of the features:
– Pure bezel-less beauty
– New fill-Glass design
– Complete IP68 waterproof design
– With an in-display fingerprint sensor
– Solar powered self-charging phone
– A completely new approach to design
– It comes in many colour options
– A breath-taking design
Sony Xperia Slicks X, more than any other feature is its Solar powered self-charging feature. Sony Mobile Communication understands that the life of a phone is the battery. More so, an average battery under intense use can only last about 8-12 hours before needing a recharge.
Sony Xperia Slicks X says there would be no more need for that come 2019 as solar self- charging would be a way to go. Such that while you're at home, in the park, or on the beach, your Sony Xperia Slicks X stays alive.
However, we'd only hope that the Sony Xperia Slicks X will not be too heavy. Because to implement a self-charging device, the solar and the charging system is going to be integrated into the device which in turn increases the weight of the phone.
Another interesting feature is the new fill glass design. This is totally away from the usual metal fill design. It's going to be sleek and breath-taking too
Sony Xperia Slicks X Specifications:
Display: 6.0 inch(1080×2340 pixels)
Processor: Octa-Core 2.2 GHz
Chipset: Qualcomm Snapdragon 845
GraphicsA: dreno 630
RAM: 6 GB RAM
Primary Camera: 21.0 MP + 13.0 MP (Autofocus and Dual- LED flash, 4k video recording)
Secondary Camera:13.0 MP
Memory: 64 GB
Expandable Memory Upto:128 GB
Sensors Used: Fingerprint, accelerometer, gyroscope, Compass/ Magnetometer
SIM 1: GSM, 4G/ LTE, CDMA
SIM 2: GSM, 4G/ LTE
Colours: White, Black, Brown, Gold and Silver
O.S: Android 8.0 Oreo
Battery: 4000 mAh
The price is slated for $500.34 USD