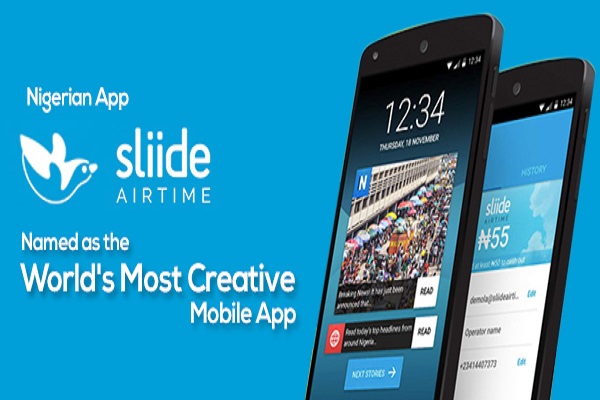 Sliide, the African App that solved a major internet problem in Africa, high cost of data. The app was launched in Nigeria March 2016. The app sends personalized news and stories from national and international publishers as well as sponsored content and adverts, based on personal interests, straight to the lock screen of users' phones. It then uses 65% of its advertising revenues to buy mobile data from telcos to give to its users – who can then earn more airtime by completing tasks such as answering surveys from brands. Sliide Airtime gives up to #20,000 worth of airtime for just reading news and referring your friends. It's a new and innovative way of funding internet access in Africa where internet data is expensive.
The app won the most innovative app awards in the global mobile world congress awards. Beating competition from US, Korea etc. who were heavily funded. The CEO and Founder, Corbyn Munnik, born in South Africa, had this to say: "What an honour for myself and the Sliide team. This is proof yet again that Africa can produce innovative companies that can change the world."
"We are now raising funds to expand into additional markets; there's a lot more to achieve as we continue to expand and scale up our offering."
Sliide also won the Best African App at the 2016 AppsAfrica Innovation awards in Cape Town, beating off competition from more than 200 submissions from 25 countries. The app was also named the Most Effective Consumer Smartphone App at the Effective Mobile Marketing Awards in London, the Mobile Marketing Company of the Year at the annual Nigerian Telecom Awards and winner of the Game-Changing Innovation category at the West Africa Com Awards.
This App is ingenious!