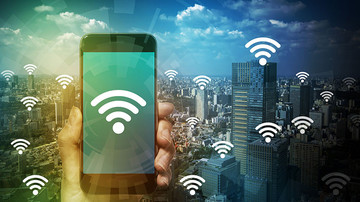 Have you considered why your network suddenly goes slow after a moment of turning on your Wi-Fi? Or, perhaps why your data is suddenly exhausted too soon?
Truth is, your internet can be tapped without your knowledge while you're busy working on your device, and especially, when it isn't secured. This can pose certain kinds of threats in a different kind of way, such as slowing down your internet, eating up your data, unauthorized access to devices/files that are on the same network, malware infections, theft of passwords and other personal information.
Wi-Fi sharing isn't particularly a bad practice at all when shared with people you can trust. But in a situation where you get suspicious that a neighbor is stealing your Wi-Fi, then there's a call for concern.
However, you may not have to wait until you get suspicious before you can displace unauthorized users on your network way. There are free tools that'll help you see everyone on your Wi-Fi.
First, Beef Up Your Network Security: For desktop and laptop users, it is pertinent to initiate a change in router security as often as possible with a strong combo of characters. You can do that in your router's web interface; find the option to change your password (usually under the "Wireless" section somewhere). If you don't have a password, you absolutely need to start using one.
For mobilephone users, initiate a change in wi-fi security on your phones tethering and hotspots setting —set up Wi-Fi hotspot.
Wireless Network watcher: This tool will provide a list of every device currently connected to your network, so you can identify the ones that belong to you, and disconnect the devices that are unknown to you.
How it works
This program is peculiar to systems running windows in them.
(scroll down to the Zip download link below "Feedback" to get it).
Having downloaded it into your device, launch the program and it will immediately start scanning your network. When scanning, you'd get a notice, "scanning…" at the lower end of your screen indicating the scanning process has begun. Once it's done, that message will disappear, and you'll be presented with a full list of connected devices.
Who is on my Wi-Fi : this program is to enable devices find or identify other devices that belong to you so you can eliminate intruders.
How it works
Download the app, launch it and choose "Yes, set up continuous automatic scanning" from the popup. Click "Proceed" on the next window, and the app will begin scanning your network for devices. You'll see the "Scanning" message somewhere in the upper-right-hand corner when it's working, in a few minutes, you'd get the scanned result.
Easy, right? Please tell us other programs you may have used and your experiences with it below