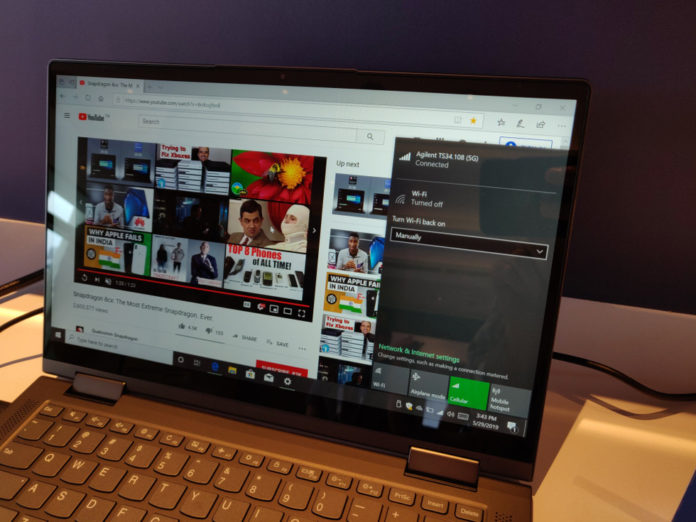 World's first 5G laptop actually attended the ongoing computex 2019 in Taipei, Taiwan, and PCMag had a field day with a hands-on review of the future 5G laptop. Here's what it has to say.
The world's first 5G laptop is arguably at its prototype stage, and without an official name yet. But it's obviously a joint product of Lenovo (China) and Qualcomm (U.S), maker of the snapdragon processor that will power it. (guess you were expecting an Intel core processor instead).
The 5G laptop has a Snapdragon 8CX processor and a built-in Snapdragon X55 5G modem, which theoretically means much faster performance and higher cellular data speeds than regular Snapdragon-based laptops. 
The 8CX's CPU has more system cache and twice the memory bandwidth of its Snapdragon 850 predecessor, while the X55 is capable of speeds up to 7GBps.
Results achieved were: ability to run multiple apps simultaneously on the built in screen including two external high definition (4k) monitor screens; super fast browser tabs loading; silky smooth video playback, which are basic expectations of a 5G laptop.
Now, check your location, is there 5G coverage in your area? 5G laptops only come in handy for cities with 5G network deployment. AT&T, Sprint and Verizon have just started 5G deployment in few cities in the US. Africa continent is yet to get in the race, while China is taking the lead.
However, world's first 5G laptop, according to both companies, will be on the market from next year.
Hopefully, your location would be 5G equipped already😄.
Featured image by PCMag