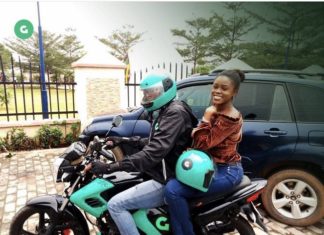 Gokada has raised a $5.3 million Series A round to grow its two-wheel transit business. The ride-hailing start-up in Nigeria was co-founded by Fahim Saleh, a Bangladesh, in 2018. Since co-founded, the startup has completed nearly 1million rides.
However, having received funding, it's looking to add more motorcycles to its fleet to enable a scale up of its business. "We're going to start a Gokada club in each of the cities with a restaurant where drivers can relax, and we'll experiment with a Gokada Shop, where drivers can get things they need on a regular basis, such as plantains, yams, and rice," Saleh told TechCrunch.
Gokada's uniqueness is its operational model, and that is the use of tech (app) in its operations. It has trained and on-boarded over 1000 motorcycles and their pilots on its app that connects passengers to moto-taxis and the company's signature green, DOT approved helmets.
The startup's business model is not largely different from the regular model applied by Nigerian transportation business. The company charges riders a flat-fee of 3000 Nigerian Naira a day (around $8) to work on their platform, while the balance remains with the riders at the end of the day.
Also Read: Gokada, Nigerian Bike-Hailing Service Introduces G-Medic
Gokada says, this move is in the direction to creating a comfortable working environment for its riders, "We don't do anything with the fares. We want to create an Amazon prime type membership…and ecosystem around the driver where we're going to provide them more and more services, such as motorcycle insurance, maintenance, personal life-insurance, micro-finance loans," Saleh said.
"We're trying to provide a network of great services for our drivers that makes them stick with us, and not necessarily see a reason to switch to other platforms," said Saleh.
But what happens when there's not enough patronage. Are the Gokada riders still expected to remit same amount?
Gokada, however plans to expand beyond Lagos state, cutting across the entire country of Nigeria with its motorbike hailing services.
But achieving that would not be easy, since some states in Nigeria have banned the use of motorbikes in their vicinities.
However, the ability of two-wheelers to cut through the heavy congestion in cities such as Lagos is a welcome development.
Want to know who Gokada's investors are?
Gokada's Series A investors include; Rise Capital led the investment joined by Adventure Capital, IC Global Partners, and Illinois based First MidWest Group. Coinciding with the round, Nigerian investor and Jobberman founder Ayodeji Adewunmi is to join Gokada as co-CEO