With the phone hands-on, navigating while driving can be distracting and dangerous but not anymore introducing Huddy (The new heads-up display) that helps you view navigation information completely hands-free while staying focused on the road. Pilots even use this technology to stay focused while flying. Easily view maps, speed, traffic and more. Huddy fits every phone and car, works in rain or shine, day or night. Securely grips your phone and dash. Sets up in seconds…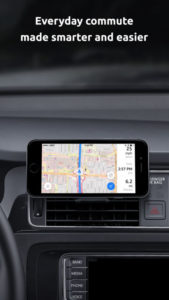 Huddy makes the ultimate gift for new drivers, truck drivers, travelers, parents, seniors and more! Turn dangerous distracted driving into safer, smarter, focused driving.
Huddy claims it will make your life 10 times easier and safer as you can check your phone GPS without any distractions.