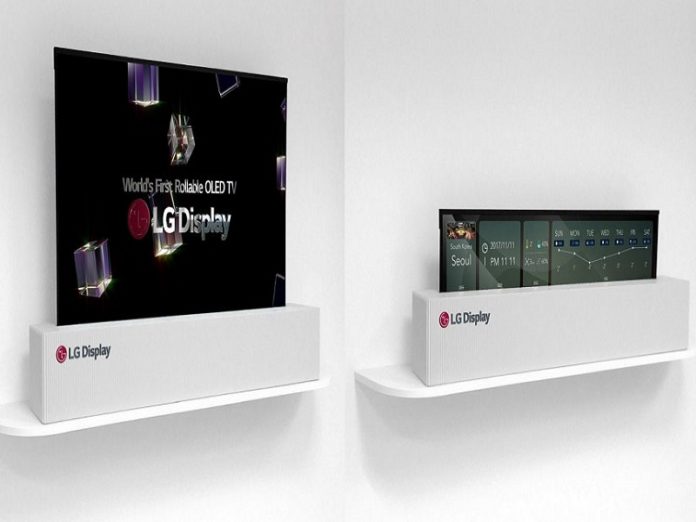 Call it innovation, disruption or whatever. I think they are "crazy". LG just unveiled a 65-inch rollable UHD OLED TV at CES in Las Vegas. The company which debuted an 18-inch prototype 4 years ago, unveiled it at the annual event(CES) in Las Vegas. It is an OLED ( more about OLED another day) behemoth that literally rolls or folds inside a box when not in use. The display is  UHD, a.k.a  4K.
Why would you want to roll up a TV? Well, it obviously makes for easier storage and transportation, but more than anything else, it still remains a distinctly sci-fi concept. Being flexible enough to roll, the display panel becomes more organic and natural. The format lends it the properties of a painting canvas or a (very big) sheet of paper.
As reported by CNET, LG's screen is a 65-inch OLED TV that's exceedingly thin, allowing it to be scrunched inside a box, that LG says, is about the size of a soundbar. Better yet, because OLED screens are generally lightweight, LG believes you'll be able to tuck away your display and bring it with you from room to room.
LG has been on the cutting edge of advancements in the TV space. At last year's CES the company announced its first "Wallpaper TV," the Signature OLED TV W7, which measures just 2.85 millimeters thick, and mounts to the wall with magnets.
Last week, LG unveiled its first 8K television. That one comes in at a whopping 88 inches, making it the biggest OLED television LG has ever offered.
"We will firmly establish our position as a leading company by responding to market expectations and providing differentiated value in the rapidly expanding OLED market as well as the existing LCD market," said Dr. Sang-Beom Han, Vice Chairman and CEO of LG Display, in a press statement.
Other major TVs showcased at CES 2018 thus far include Samsung's 146-inch 4K TV, which it calls "The Wall". The South Korean firm also showcased its artificial intelligence (AI) powered 8K TV – Q9S – that would face heat from LG's massive 8K panel.
Like every other TV, this one will definitely hit the shores of Africa soon. So when you see someone carrying a folded, paper like, glossy material, and calls it TV, don't be alarmed…its true.