Do you hate tying your shoelaces? You can control Nike's new shoes through an app.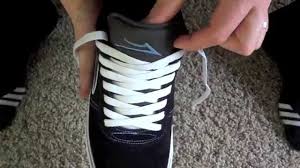 Nike is introducing it's second version of its self-lacing hyperAdapt shoes 2.0, the adapt BB. And this pair is a lot more affordable at $350, pairs over Bluetooth, and remembers how tight you like your shoes. It's a ton of technology packs right under the arch of your foot.
But what does it mean when your shoe acts more like a gadget?
It quickly means trying your shoes on, pressing some buttons by the shoe heels and oooh, you're tightening. It's like giving your foot a hug.
Are The self-lacing HyperAdapt shoes the shoes of the future?
Tinker Hatfield, Nike VP creative concepts, explains the engineering and huge amounts of effort that went into the invention of the motor. And how it's been finalized to build on.
The motor is key to making the shoe mainstream. The Hyper adapt 1.0 had tons of cables and wires connecting the laces, motors and lights.
It was a tangled, delicate setup. Compare that to the Adapt BB, where the shoe's technology has been completely re-engineered for mass manufacturing. All the shoe needs to make it smart is its lacing cable and lace-engine.
You don't think about any of the tech inside when you're wearing the shoes, but that doesn't change the fact you're walking on top of a lithium ion battery.
Worried the shoes will explode?
Jordan Rice, engineer of Hyper Adapt assures of safety. He said, "so we put it on the field, we put it on athletes. We've put it on the field, we put it on athletes. We've put it on NCAA athletes, semi-pro athletes, athletes that play professionally overseas and come home for the summer, and then regular athletes playing hoops on Thursday night. We literally beat it up really, really hard right over top of the lace-engine in the shoe."
He added, "In terms of battery decay, most of the batteries that you see decay in your normal devices do so because they're being charged and discharged everyday so you have a certain number of cycles. You go through 365 of those on your phone in a year. It would take you a very long time at 10-14 days battery life to go through 365 on these."
Jordan thinks this shoe isn't going to die anytime soon. And anyway, the shoe is smart enough that it will save enough battery to unlace.
Worst-case scenario, though, you can check your battery life through the app and control some other things. "pair it over Bluetooth and then it'll do a quick tighten, loosen on your feet to sense the optimal setting. Once you have a setting you like, you can also set a mode and save it." said Jordan 
Self-lacing shoes are a really interesting idea that anyone who geeks out on tech or sneakers will probably want to try. "Everybody wants fresh new shoes all the time. Our next goal will be to make this in More colors and more styles. As somebody switches to another that has the same technology in it. Said Tinker Hatfield.
Nike's Self-lacing Shoe, Adapt BB, Is Coming This Summer!