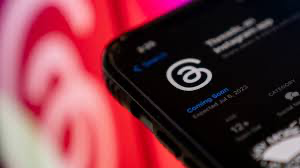 Mark Zuckerberg launches Threads to take on Elon Musk's Twitter. This comes few days after he was challenged to a cage fight with Musk.
The new app, thread got 10 million sign ups in 7 hours
Threads is where communities come together to discuss everything from the topics you care about today to what will be trending tomorrow."
The new app by Meta seeks to replicate Twitter and will be unveiled amid several new features introduced by Elon Musk.
Things We Know About Threads So Far
For every thread there is a 500 character limit.

You can't pin threads for now.

If you want to delete your threads account you have to delete your Instagram account but what you can do in the mean time is deactivate your threads profile.

You can't edit threads right now.

You can set a time limit or take a break from threads.
Picture quality and video quality is retained when you upload to the app.

There is currently no DM feature for now & to switch profiles/accounts you have to logout from one profile and login to the other. You can share threads directly to your Instagram feed or stories. You can also share to Twitter and it has a unique thread background added to it.

The Hashtag feature isn't available yet on threads
You can hide offensive words like you do on Instagram
To do this go to settings (this is at the top right of your profile) then tap on privacy and then keywords
& You can select who can reply to your threads just like you do on twitter
You can also hide like counts like you do on Instagram
& For now all your notifications are in one place
Thread doesn't show how many people you follow but only shows how many followers you have.
You can upload up to 10 items at once on threads like you do with Instagram carousel
& No ads in sight for now.
& There is no trend table in sight right now
if you are verified on Instagram you are automatically verified here also

you can follow anyone on IG by going to their profile and tapping on the Instagram icon
to follow anyone on thread just tap on the +thread icon and it follows them automatically
Accounts that users have already blocked on Instagram will also be automatically blocked on Threads.

Instagram's community guidelines will be enforced on Threads, and users can report one another for violations.

You can hide unwanted comments on your threads
& You have to manually accept requests of people that followed you before you signed up
Thread followers are called Tailors
How To Create Threads
Go to App or playStore

Click on Threads, an instagram app

Install
Mark Zuckerberg has been known for app copying and buy outs but may lack the ability to sustain long term~ from Facebook to Instagram, WhatsApp and Metaverse
Meanwhile Elon's Twitter restricts users to a number of posts on Saturday. The billionaire said verified users would access 6,000 posts daily, while unverified and new users would be allowed to read 600 and 300 tweets, respectively.
To learn more about the new app, threads , click here
featured image credits, the Guardian Nigeria