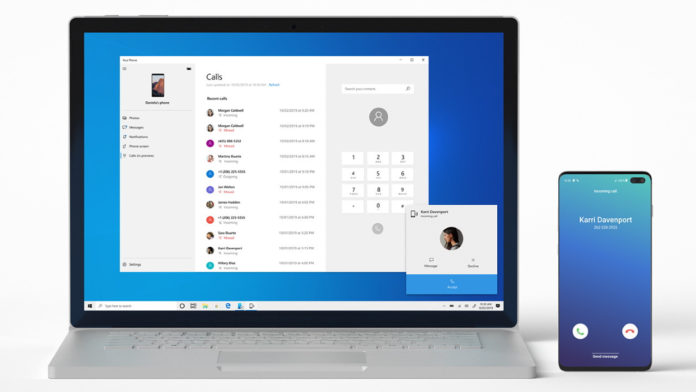 Microsoft is fast establishing connection between windows 10 PCs and Android phones. The journey which started less than a year ago is fast gaining tremendous success already.
So far, windows 10 PCs can now already allow texting, notifications, and file transfers between an Android device and Windows. These are made possible by linking your android device to PC via "Your phone" app.
How "Your Phone" app works
Install "Your phone" app in your windows 10 PC. Open it and sign in with your Microsoft Account credentials. Enter your mobile number, and the app sends a message to the phone with a link to the Your Phone companion app. Install the "Your Phone companion" app from Google Play Store.
Open the phone app and sign in with the same Microsoft account you signed in with on your PC. Approve the permissions so the app can access your photos, files, SMS messages, and now phone calls. Ensure that your phone makes use of Android 7 version and above. And your laptop is Bluetooth enabled.
A couple days ago, according to insiders preview build, Microsoft has added support for using your PC speakers and microphone to handle calls from your linked Android phone.
You can now leave your phone in your pocket or bag and make/receive calls through your windows 10 PC powered by the Your Phone app. Flexibilities include initiating calls, declining incoming calls, accessing recent calls, sending them to voicemail and more.
However, Microsoft says it the calls feature isn't entirely perfect without bugs right now as you may be required to repeatedly pair and unpair your devices and "go through the Calls set up flow again" to get it to work.