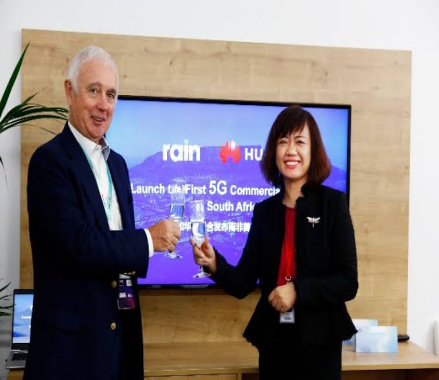 China's Huawei has partnered with South Africa's Rain to launch first commercial 5G Network in Africa.
The rain 5G SA network uses Huawei's fully converged core network solution and Massive MIMO technology, which proves it as the first 5G standalone telco in Africa.
"Standalone 5G will further improve 5G network performance with increased the uplink rate, lower latency, and improved reliability, ushering in high-end cloud VR and cloud gaming services, more diversified enterprise and home broadband services, " said rain Chief Marketing Officer Khaya Dlanga.
Unlike non-standalone network that depends on existing 4G spectrum, Rain's SA 5G equipment is built from scratch. It offers better speed and promise of premium services.
"SA 5G will demonstrate how 5G is powerful in realizing South Africa's 4IR future. Powered by Huawei's world's leading 5G solutions, our SA 5G will enable the industries 'digital transformation in the future, such as smart healthcare, smart ports, smart mining, and smart manufacturing in South Africa. We will work with the trustworthy strategic partner to further expand our 5G networks and bring the best service and experience to our customers," Khaya added.
The South Africa's 5G independent networking commercial network already has its presence in Cape Town adjoining regions. These include Cape Town's Sea Point, Claremont, Goodwood, Bellville, Durbanville, Cape Town City Centre, and other areas.
Meanwhile, last year November, MTN Nigeria conducted 5G Demo In Abuja In Partnership With Huawei. And earlier this year, a conspiracy theory emerged about the 5G network, putting the whole world, particularly Africa in a state of innuendo.
Also, while China was in the middle of the controversy, America already withdrew 5G installation partnership with her over national securities and more, Britain and a few other countries were on their way to doing so.
Africa, on the other hand are the onlookers, with unclear reasons as to whether or not to allow China in. However, with rain and Huawei jointly launching Africa's first standalone 5G network, there seems to be an understanding.