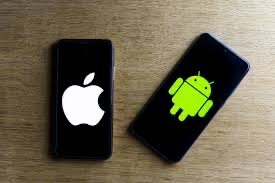 This unending comparison has always generated controversies for some reason from users of this devices.
Today, a renowned YouTuber and device reviewer, Marquee Brownlee (@Mkbhd) has revealed some interesting features and information about these two products, Android and iOS in an exclusive video presentation based on the following categories.
*Customization:
Customization is possible and easily implemented with an Android like screen color, changing the default position of an app on your screen, clocks, photos etc. You can literally deep into the settings and mess around with the home Screen and lock screen, widgets, and tweaking things and making sure the device is totally perfect for you even though iOS 17 and Android 14 are pretty close.
Meanwhile for the iPhone, you literally can't expand a widget to any size you want, you can't put an app on the right side of the screen for reachability, it must be the next top in the grid of Apple choosing. You can't change the grid size, you can't change the icon sizes
Well, your screen design must be the Apple way which is the" best"
So, the winner for phone customization is Apple, according to MKBHD
*Features: which one can do more stuff. Most platforms at sometimes levels launch the missing features. But the fact still remains that they are coping each other. For features like the copy and paste, widgets, which have been in Android, are just coming to iOS a decade later. However, there's a recent one called focus notes which gives you super high control over your notifications, hide my email (iCloud +), iCloud relay.
Features like battery management,  customized charging, charge limits to preserve battery life, actual file management system so you can drag and drop , gaming features , reverse wireless charging , wireless earbuds   10x camera, usb type c. The benefits of Android is that It comes down to having so much feature choice
So the Winner again is the Android according to MKbhd.
*Ease of use : this is very valuable to a lot of people. The act of giving flexibility to the user without overwhelming them with a ton of buttons and settings and this is where the iPhone has excelled for years.  For instance, the home screen has had four icons in the dark since the beginning and the phone icon has always been green and on the left every single time for 17 years, the iPhone camera has stayed fundamentally the same, the view finder and sliding mode, the calculator has been unchanged for years, customer service has been very good just for user continuity and ease of use unlike the Android that just tries out new things for no reason and sometimes it works and other times it doesn't. The Android is the winner MKBHD said.
*Updates: iOS has promised that all devices from 2018 will get the new iOS 17 when it is released and over time they've been updated as promised, contrary to the latest android version of 14. Most Android promised updates in the past never saw the light of day. Some Samsung phones are culprit. So Apple has it (winner).
*Apps: there's over 3.5 million apps in the play store, and over 1.5 million apps in the app stores. Look s like a win for Apple there. But quality over quantity is considered here. Seriously, every major app is available for both platforms. One may ask, is the Instagram or Threads app on the iOS same as the Android? But the truth is updates comes first on the iOS before they come to the android. So slight advantage goes to Apple. Apple has it again (winner).
*Excitement: which is more interesting or exciting? With the massive influx in new technology, designs, like if you're more interested in folding phones, gaming phones, a head phone jack, compact phone, world's fastest charging, new unique designs and materials, textures and experimental features, then that's the world of android. While on the flip side, if iOS is going to finally have an exciting feature like the usb-C or fast charging, or 5x camera, then it isn't something new in the phone world.  Therefore, the excitement category will definitely come to Apple.
*Ecosystem: Samsung for instance makes a ton of different phones, watches , tablets, dishwashers and refrigerators that are  more versatile and classic looking. But the Apple ecosystem in the US is so strong with just the face time, iMessage and find my network features. MKBHD says he's giving the slide edge to Apple because for one, he's in the US, and two, the seamlessness and continuity.
Disclaimer;
However, there's a disclaimer that his opinions weren't objective and were also very personal. Therefore it all boils down to what you want. Because there are some people who won't care about some functionalities in an iPhone so long as what they want is given .
Therefore in the end, YOU are the winner as you tend to pick and choose which one works best for you.