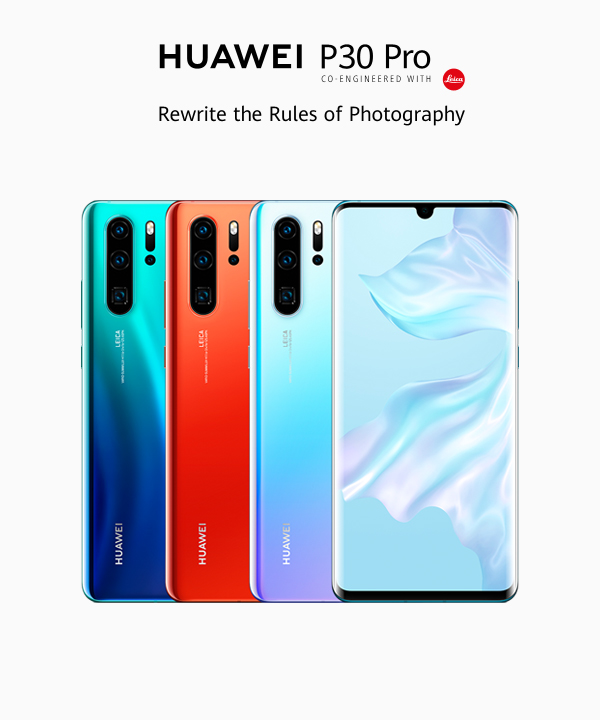 Huawei, the world's second largest phone maker, unveiled it's latest flagship smartphone at the event which coincided with the visit of Chinese President Xi Jin ping to the French capital, where President Emmanuel Macron held a meeting along with German Chancellor Angela Merkel and European Commission President Jean-Claude Juncker to discuss climate and trade.
Huawei P30 was unveiled along it's premium version P30 pro. Huawei's P30 Pro has four rear cameras – including a specific named "time of flight" camera that helps its Artificial intelligent (AI) create better exposures.
Also, the phone has a new light sensor that detects yellow rather than green (RGGB-RYYB) which Huawei said would significantly boost light absorption to create better results of a rosy dawn, mid-day sky, even in darkness of night.
The P30 Pro, Huawei's P30 premium version, also uses electromagnetism to vibrate the screen to create a speaker when the device is held up to the face, minimizing any sound problems when taking a telephone call, added the company.
Share with OneHop: A simple tap from your HUAWEI P30 to the MateBook can send pictures, videos and documents in seconds. And, by just shaking and touching your phone to the MateBook, you can begin recording a 60s.
An executive at Huawei's product launch in Paris said the P30 would go on sale with a starting price of 799 euros ($902), while the P30 Pro would have a starting price of 999 euros.
"The phenomenal thing about Huawei is they are successful in spite of the US policies or the US market," said Lam. They've taken a leadership in AI, chip/modem tech and mobile photography — not to mention, foldable smartphones and 5G. They have all the elements that Samsung had when it matured into a global powerhouse."
Huawei's P30 is taking on Samsung's Galaxy S10 and Apple's X smartphone. Huawei spited Apple a day to its new launch with a ridiculous post that suggested Apple was a child's play compared to her.