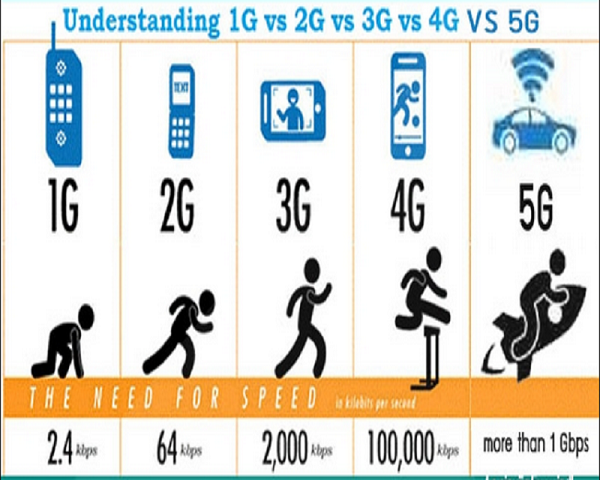 Have you ever wondered what the letter "G" shown using numbers like 1G, 2G, 3G, 4G and 5G near your phone signal bar means? Not to worry, we have your back on this.
In your mobile smartphone, the strength of internet service is shown using alphabets like "G", "E" and "H". These symbols are visible right next to the signal strength indicator. A higher number before the "G" means more power to send out and receive more information and therefore the ability to achieve higher efficiency through the wireless network.
The "G" in 1G, 2G(GPRS), EDGE, 3G(WCDMA), H+, 4G and 5G stands for the "Generation" of the mobile network. There's more to this:
1G – this refers to the first generation of wireless telephone technology i.e mobile Communications. It used analogue signals and its speed was up to 2.4kbps.
2G(GPRS): this refers to the second generation mobile technology. Uses digital telecommunications standards. It's considered as GPRS(General packet Radio Service) with the symbol G. The slowest and oldest amongst all mobile technologies. Good enough for sending text messages using apps like 2go, whatsApp. Data rates are between 56 and 114kbps.
EDGE( Enhanced Data rates for GSM Evolution)- this technology lies somewhere in between 2G and 3G technology. Although some people refer to it as 2.5G or 2.7G. This is a step up from GPRS. Speed reach between 120kbps to 384kbps.
3G(WCDMA)- refers to the third generation of mobile telephone technology. It provides data rates of 384kbps to
42mbps depending on how it's implemented. Apparently 3G is faster than EDGE making it easy to browse websites and stream music. Note also that WCDMA is also a 3G technology.
"H" stands for HSPA(High Speed Packet Access). It's an enhanced 3G technology. HSPA provides higher data transfer rates than the basic 3G. However there are other forms of H with their respective speed rates:
H+: (Evolved HSPA-6), 14.4mbps
H+: (Evolved HSPA-7), 21.1 or28.0mbps
H+: (Evolved HSPA-8), 42.2mbps
H+: (Evolved HSPA-9), 84.4mbps
H+: (Evolved HSPA-10), 168.8mbps
4G- refers to the fourth generation of mobile technology. It's apparently the best amongst the previous ones already discussed. If you see the 4G near the signal bar in your mobile phone then it means you are using the fastest mobile internet connection available on the globe at present. 4G is also called LTE(Long Term Evolution). 4G works as good as Wi-Fi in your home or office. You can do everything and anything on your mobile or desktop. 4G has another form which is the LTE-A of 1Gbps.
5G is the fifth generation wireless systems. It's the proposed next telecommunications standards beyond the current 4G. Mobile Operators like MTN launched it's first 5G trial in South Africa this year with speed over 20Gbps.
I hope these piece of information helps. Feel free to comment on areas you need help.